Acrylic prints in 3 steps
1. Upload photo

2. Select size

3. Order acrylic print

---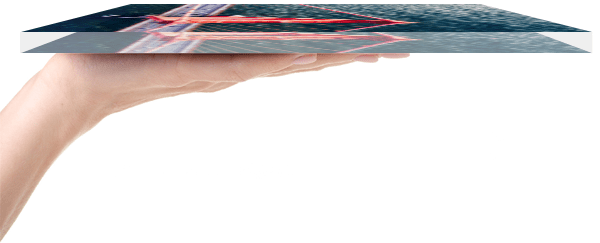 Diamond-polished
Acrylic Prints
Acrylic glass with polished edges is a stunning photo carrier. With the 8 mm thick plexiglass you'll have a stunning 3D effect.
---
Ready to ship:
Monday, 17 May 2021
---
Acrylic Photo in two elegant versions
We offer our Acrylic prints in 2 different high-glossy versions.
Choose between 3 mm thick glass and the 8 mm Premium version.
---
---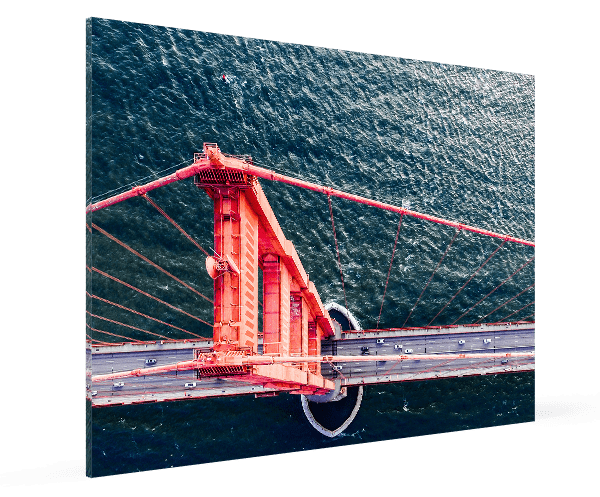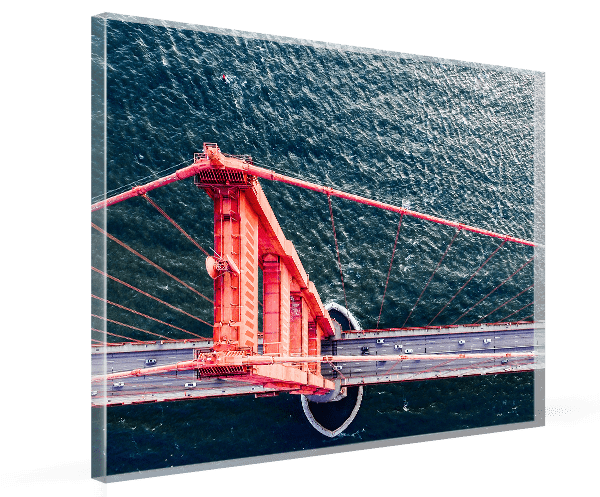 The acrylic photo print
Brilliance & durability
Colour brilliance, unusual and unbelievably durable: the acrylic photo print. It's the smooth, glossy surface in particular that gives the acrylic photo its beautiful, modern look. But a print on acrylic glass also becomes a visual experience thanks to its amazing colour reproduction, incomparable depth of sharpness and its high contrast.
The properties of the glass itself have improved dramatically in the last years but not only that: acrylic prints also open up completely new possibilities in terms of hanging, choice of motif and creative effects.
Revolutionary direct printing
Maybe you have the experience of ordering a photo on acrylic glass from another manufacturer and then wondered why it's called a "print on acrylic glass" when in most cases your photo isn't printed on acrylic glass at all. Despite the many new options that modern printing technology offers, many providers decide on simply gluing a printed poster to the back of the acrylic glass sheet.
It really is that simple, but can have a huge disadvantage: the glued-on paper can detach from the acrylic glass extremely quickly, a risk that continues to grow the older the picture gets. This is annoying – and is also just unnecessary!
After all, direct printing is an option. This modern and high-quality technique is used particularly for larger acrylic formats. Here, the photo is printed directly on to the back of the acrylic glass sheet and then sealed with white. This clever technology not only makes your acrylic prints particularly durable but also allows for many interesting, additional effects such as lighting.
Here's how to make sure your acrylic prints are a resounding success
In general, photos on acrylic are suitable for all imaginable motifs. Your imagination will know no limits. But, of course, the creative process can take a meandering path and can take its time. Maybe you already know that you definitely want to print on acrylic but are not sure which motif you should choose, what an acrylic photo print will look like in different spaces or what you have to look out for. For the most part you can relax: thanks to the robust qualities of the material, acrylic prints are amazingly uncomplicated and very easy to handle. In contrast to unglazed pictures such as canvas prints, acrylic prints even allow you to wipe them clean with a conventional dust-cloth.
The direct print method also allows you to hang your acrylic photo print in damp rooms such as the bathroom or even on outdoor walls, without compromising the material or image quality. But you should remember this: the higher the resolution, the better your acrylic prints will be. This means that you should send us an image file with at least 300 DPI. And then nothing can go wrong!
Acrylic prints: special variants
Acrylic prints are available in many different variations. In respect to the glass itself, you can choose between thicknesses of 3 millimetres and 8 millimetres.
The 8-millimetre version in particular delivers wonderful results. In the ideal combination with diamond-cut edges, your Perspex print will enjoy an extraordinary depth. Mounted in the right place, your acrylic photo will look like a window in which you can set your own scenery.
You can achieve particularly exciting effects with your print on acrylic glass when you mount it so that light can filter into the cut edges. This will give impressive cityscapes, brightly coloured flowers and dynamic motifs a radiant look.
Our tip: we offer acrylic prints in 50 different formats, from a handy 40x30 cm to an impressive 160x120cm. You should definitely take your motif into consideration when choosing a format for your acrylic photo print. For enthralling landscapes and city scenes, for example, the larger the image, the greater the effect will be!
---
Tip: For sizes 100 x 100 cm and up, we recommend the 8 mm version.
Your acrylic print in different sizes


40 x 30 cm


60 x 40 cm


80 x 60 cm


120 x 90 cm


160 x 120 cm
---
---
Did you know? We offer 3 clever hangings for your acrylic print.
Hangings
COUPLE (Our tip)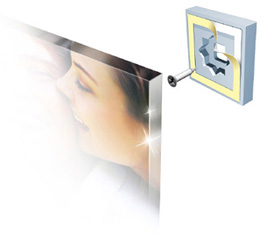 For small & medium-sized prints – with "Floating" effect
Up to 6 kg (120 x 90 cm)
Spacing from wall: 10 mm
"Floating" effect
HARRY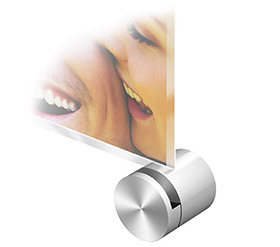 Steel hangings for large & heavy prints (no drilling needed)
For all sizes
Spacing from wall & diameter: 15 mm
Stainless steel
STEEL 20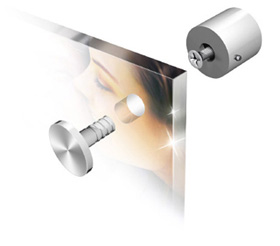 Steel hangings for large & heavy prints (drilling needed)
For all sizes
Spacing from wall & diameter: 20 mm
Stainless steel
---
Find out more about our mountings.
---
Any questions?
---
---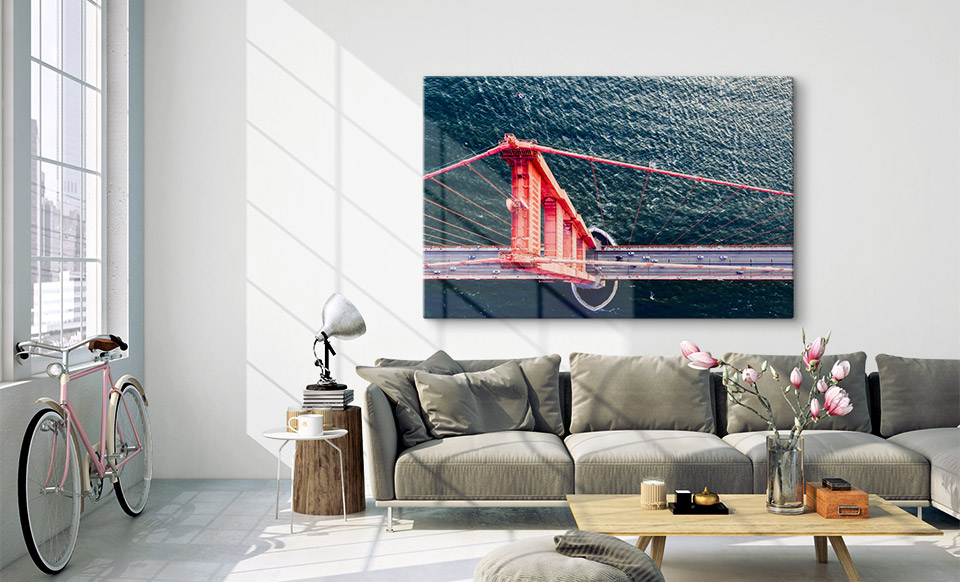 ---
---
Popular sizes
Your acrylic photo is available in the following thickness: 3 mm / 8 mm
Size
RRP
Price
Choose size

XS

20 x 20 cm

£45.00

£19.00

£49.00

select

XS

30 x 20 cm

£20.00

£60.00

select

XS

40 x 30 cm

£65.00

£30.00

£70.00

select

XS

40 x 40 cm

£35.00

£95.00

select

XS

45 x 30 cm

£75.00

£35.00

£95.00

select

S

60 x 40 cm

£45.00

£115.00

select

S

60 x 45 cm

£50.00

£120.00

select

S

60 x 60 cm

£105.00

£60.00

£140.00

select

M

80 x 60 cm

£115.00

£65.00

£165.00

select

M

80 x 80 cm

£80.00

£170.00

select

M

90 x 60 cm

£125.00

£70.00

£170.00

select

L

100 x 100 cm

£100.00

£250.00

select

L

120 x 80 cm

£175.00

£95.00

£245.00

select

L

120 x 90 cm

£175.00

£100.00

£250.00

select
Delivery discount on multiple purchases (same size)
Prices incl. VAT.
---
---
Did you know? A photo on acrylic glass can weigh 20 kg and more.
Our glass weight calculator helps you to find the best hangings for your print.
---
Stunning Panoramic Acrylic Prints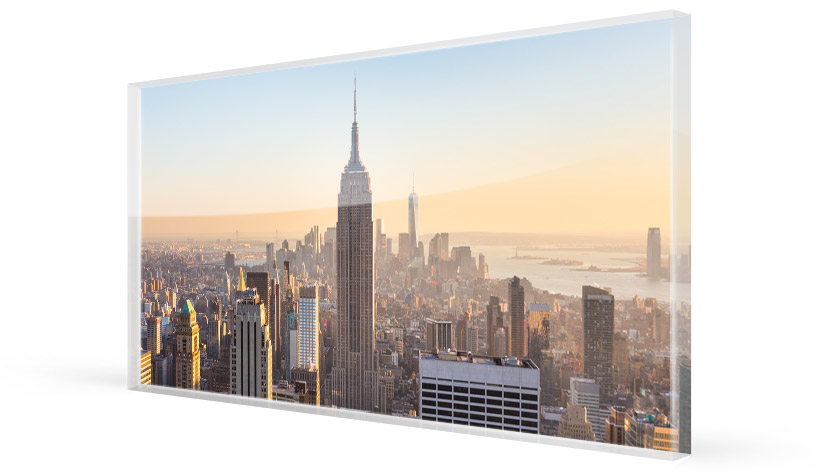 Large panoramic acrylic prints are simply brilliant & impressive. We offer sizes up to 240 x 120 cm in the formnats 2:1 and 3:1.
---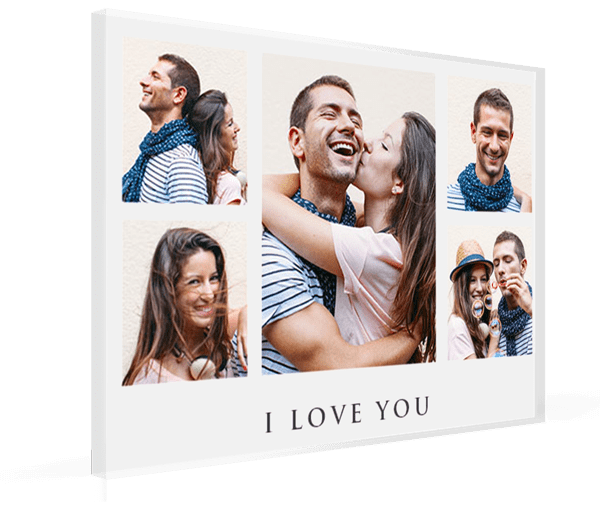 250 templates for your Collage on Plexiglass
Use up to 100 pictures for your individual collage. Easy to create!
Find out more about Perspex Photo Collage.
---
Ready to ship:
Monday, 17 May 2021
---
Create Collage
Acrylic Photo Mosaic with up to 1,000 pictures
Create your mosaic with up to 1,000 images. Find out more about Photo Mosaics
---
Ready to ship:
Monday, 17 May 2021
---
Create Photo Mosaic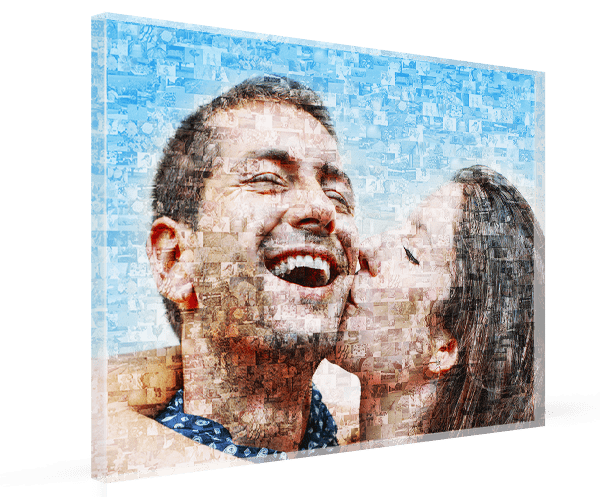 ---
---
This might also interest you