Your individual Perspex Print
1. Upload photo

2. Select size

3. Order plexi print

---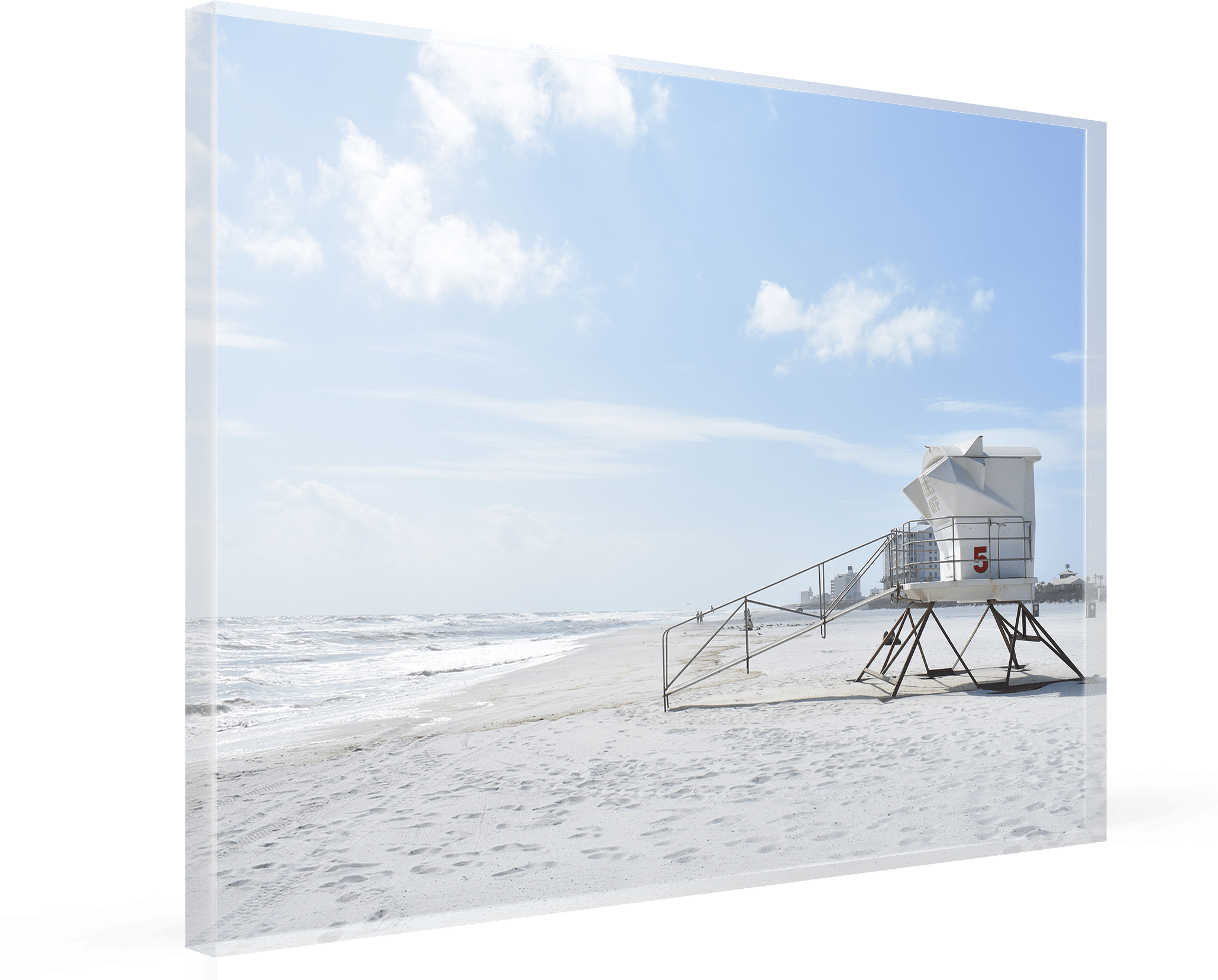 Diamond-polished edges
A Photo on Plexiglass is mind-blowing: Get the feeling of looking into the picture.
---
Ready to ship:
Monday, 11 Dec 2023
---
---
Two elegant versions
Choose between 3 or 8 mm thick plexiglass. The 8 mm Premium version comes with diamond-polished edges. Thus, a stunning three-dimensional effect will be created.
---
---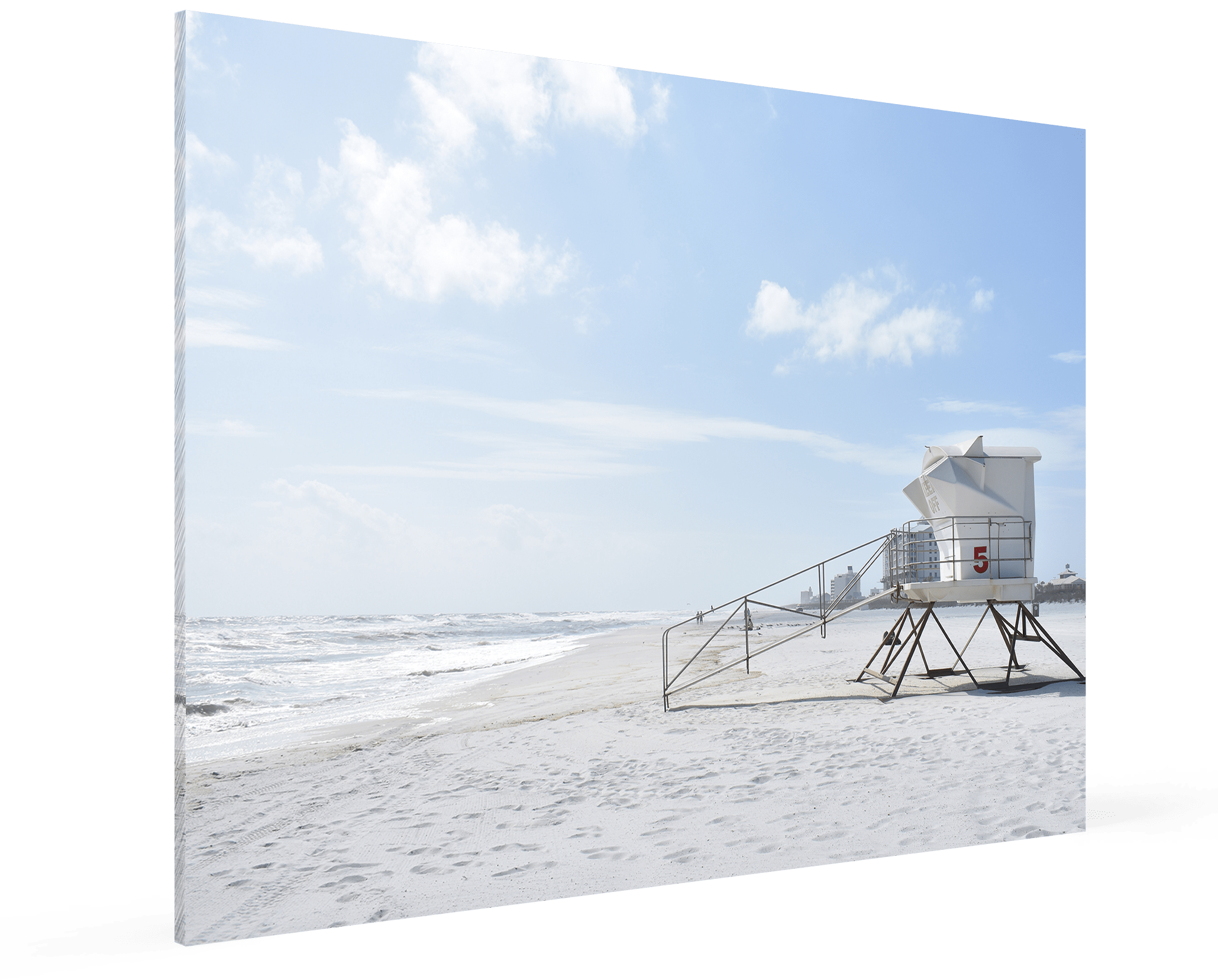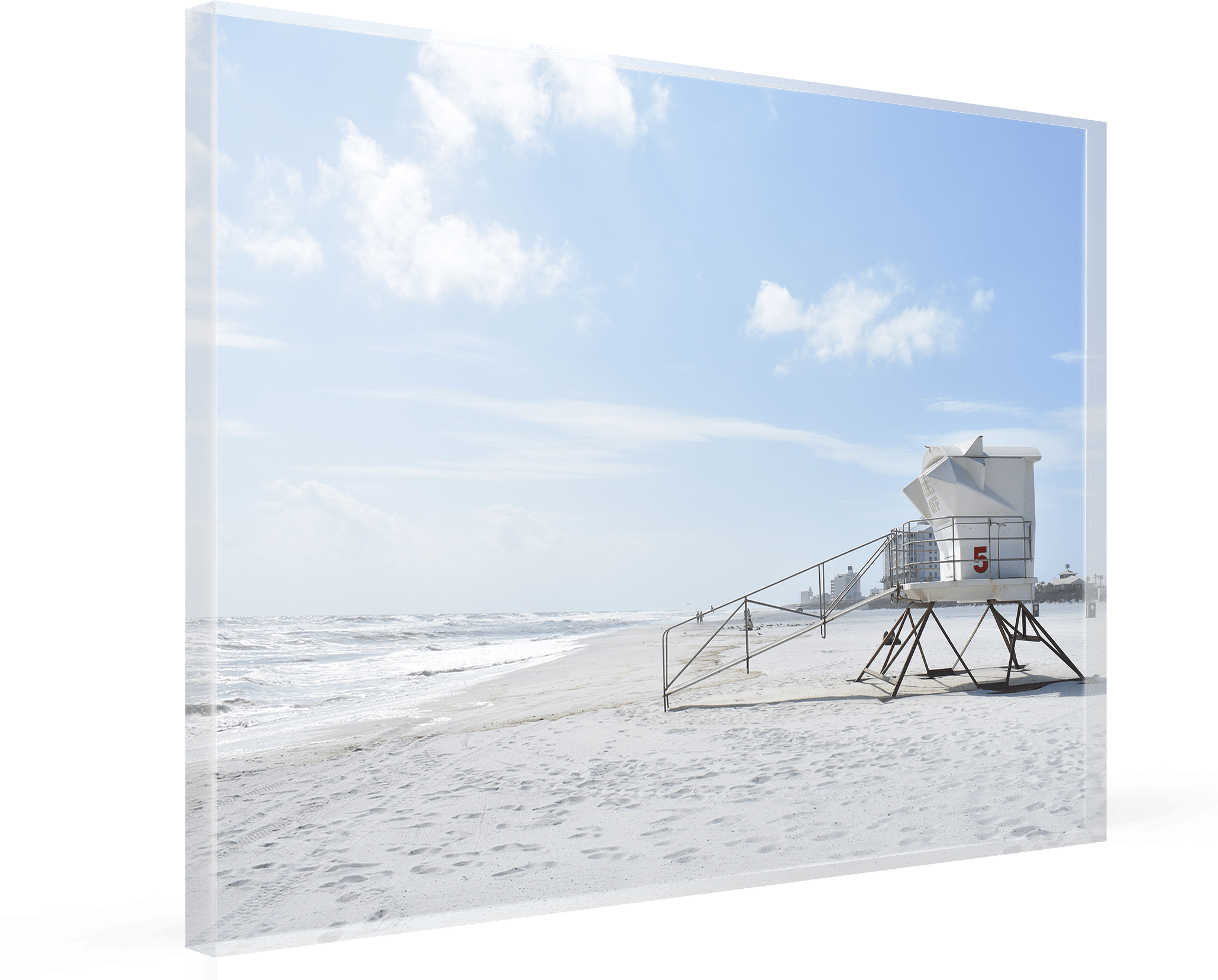 ---
Fantastically stable & unbelievably colour-intense
Your photo as a perspex print
Perspex?! You might only associate it with your local DIY store. As a sturdy, modern and relatively lightweight material, perspex has long been popular among crafters and DIY fans all over the world. It's so weather-resistant and stable that it has even been used in aerospace technology. In everyday life, you'll probably come across perspex most often as a printing medium for signs, trade show stands or backlit advertisements.
So, the step to having your own photo as a print on perspex actually isn't such a leap. But it has only become possible in the last few years to print directly onto perspex. And you can benefit from this in several aspects: Perspex prints these days are brilliantly sharp with extraordinarily brilliant colours and are also very versatile.
Perspex photo prints: glossy and colour-rich
A perspex print impresses particularly with its intensive colour reproduction for incomparable, beautiful effects. Expressive, vivid images with clear contrasts will make the most of a perspex print in particular. On the other hand, care should be taken with delicate, harmonious and very homogenous colour palettes. Their characteristic lack of depth of contrast can be diluted even further through the transparent surface of the perspex.
This means that your print on perspex will look its best when you can combine strong light-dark contrasts or a lot of bright, prismatic colours. Once you have your eye on these special colour considerations, you're completely free in your choice of motif. Try a summer meadow full of flowers, an urban big-city scene or a fabulously beautiful moment from your holiday in Morocco.
A print on perspex – many options
Those photo fans with a tendency to be a bit clumsy in particular will celebrate the uncomplicated properties of perspex: much less fragile than other materials, perspex can survive falls as well as direct contact with water and strong light sources. This makes it especially safe and practical for one thing, but also unbelievably versatile for another. This means you can hang your perspex print in the kitchen, in the bathroom and even on outdoor walls.
If you have already experimented with various photo printing methods and media but have until now been shy of going for the larger acrylic formats, perspex is a great material to start.
Why? Because compared to other materials, it's virtually indestructible. Perspex is a lot of fun simply because it comes as a colour-intensive, all-round, easy-to-manage package. For example, if you want to clean your perspex print, it's absolutely no problem.
Dust, splatters and even annoying smears can be removed easily and without scrubbing with a conventional microfibre cleaning cloth. It couldn't be simpler!
Perspex photo prints: what you have to consider
Fundamentally, a print on plexiglass is an easy thing to organise – for you at least. For us as the manufacturer, the process is a technically very complicated one. In the last few years, however, developments in modern direct printing have taken place that allow us to print on perspex more efficiently than ever. Our process means that you don't simply get a photo poster glued onto a plexiglass sheet but rather we print your photo directly onto the perspex itself.
We use a high-performance professional ink-jet printer to print the image onto the back of the sheet. The advantage over the other production method is clear: Your perspex print is of much higher quality and will also last much longer.
Here's how to avoid mistakes and delays: Upload your photo file with a minimum resolution of 300 DPI. We'll be able to produce your perspex photo immediately and can guarantee you the best results. If you have ordered your perspex print on a weekday, you might with a little luck even have your picture delivered to you the very next day!
---
Tip: A print on plexiglass is waterproof and can also be hung in the bathroom, for example.
---
Your print on plexiglass in different sizes


40 x 30 cm


60 x 40 cm


80 x 60 cm


120 x 90 cm


160 x 120 cm
---
Did you know? Plexiglass is shatter-proof and more translucent than mineral glass
---
A Plexi Print is a modern Eye-Catcher on your walls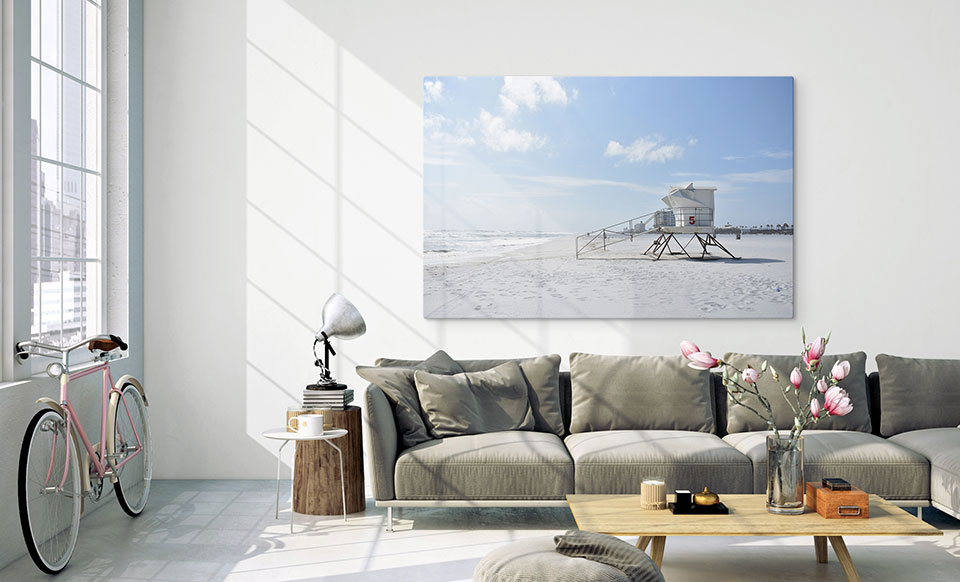 ---
---
Customer reviews
Michael T.
Review in United Kingdom
Product: Acrylic print Verified purchase
This is my second metal print and the quality is just as good as the first. The quality and the thinness of the raised plate make it stand out and look really professional.
Michael T.
Review in United Kingdom
Product: Acrylic print Verified purchase
I liked the lifelike colours and non-reflective service. Also the picture remains clear from every angle.

---
Alistair
Review in JERSEY
Product: Acrylic print Verified purchase
We ordered a 40x40cm acrylic glass print from a photo upload from our holiday. The order process was very easy and intuitive, communications good and delivery very prompt. The picture was well-packaged and arrived at our home in Jersey in perfect condition and was attached to our wall with the 'couple' fixings (optional extra) the morning after. Would certainly use again.

Mike
Review in 2ur
Product: Acrylic print Verified purchase
Quality print speed delivery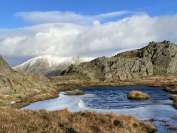 ---
---
---
Further information
Plexiglass print info
Prices
Delivery times
Mounting
Perspex print informations
High gloss plexiglass
Océ – Canon™ print technology
Up to 200 years' light resistance
Glass thickness: 3 or 8 mm
8 mm with diamond-cut edges
---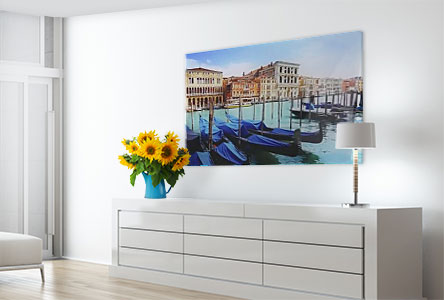 Detailed information
High gloss perspex available in two choices of glass thickness 3 or 8 mm
Premium (8 mm) + diamond cut edges
Choice of 3 mounting systems – also "floating" hanging form
Printed directly on acrylic glass with Océ – Canon™ print technology including white print
Many plexiglass print sizes also available with Next Day delivery
Glass printing also available in XXL sizes up to 2 metres
Your perspex photo print is available in the following thickness: 3 mm / 8 mm
Size
RRP
Price
Choose size

XS

20 x 20 cm

£45.00

£19.00

£49.00

select

XS

30 x 20 cm

£20.00

£60.00

select

XS

40 x 30 cm

£67.00

£30.00

£70.00

select

S

40 x 40 cm

£35.00

£95.00

select

XS

45 x 30 cm

£75.00

£35.00

£95.00

select

S

60 x 40 cm

£45.00

£115.00

select

S

60 x 45 cm

£50.00

£120.00

select

S

60 x 60 cm

£105.00

£60.00

£140.00

select

M

80 x 60 cm

£115.00

£65.00

£165.00

select

M

80 x 80 cm

£80.00

£170.00

select

M

90 x 60 cm

£125.00

£70.00

£170.00

select

L

100 x 100 cm

£100.00

£250.00

select

L

120 x 80 cm

£175.00

£95.00

£245.00

select

L

120 x 90 cm

£175.00

£100.00

£250.00

select
Delivery discount available on multiple purchases (same size).
All sizes and prices
Prices incl. VAT.
When will your perspex be delivered?
Choose a size
Destination
TODAYOrder
now

Next Day*
EXPRESSdelivery
guaranteed

PRIO**delivery
expected

Sat
Sun
Mon
Tue
Wed
Thurs
Fri
Sat
Sun
Mon
09
Dec.
10
Dec.
11
Dec.
12
Dec.
13
Dec.
14
Dec.
15
Dec.
16
Dec.
17
Dec.
18
Dec.
Order weekdays until 11 a.m.:
* Guaranteed delivery next working day
** Prioritised production and standard delivery
Our delivery companies:

---
Destination
| | Size | Next Day EXPRESS Upgrade | PRIO Upgrade | Delivery |
| --- | --- | --- | --- | --- |
| XS | 30 x 20 cm | £69.95 | £5.95 | £22.95 |
| XS | 40 x 30 cm | £69.95 | £5.95 | £22.95 |
| XS | 45 x 30 cm | £69.95 | £5.95 | £22.95 |
| S | 60 x 40 cm | £74.95 | £7.95 | £15.95 |
| S | 60 x 45 cm | £74.95 | £7.95 | £15.95 |
| S | 75 x 50 cm | £74.95 | £7.95 | £15.95 |
| M | 80 x 60 cm | £74.95 | £7.95 | £15.95 |
| M | 90 x 60 cm | £79.95 | £9.95 | £19.95 |
| M | 100 x 75 cm | £79.95 | £9.95 | £19.95 |
| M | 105 x 70 cm | £95.95 | £12.95 | £19.95 |
| L | 120 x 80 cm | £95.95 | £12.95 | £19.95 |
| L | 120 x 90 cm | £95.95 | £12.95 | £19.95 |
Prices incl. VAT.
Delivery discount available on multiple purchases (same size).
All prices and delivery times
Couple
Harry
Steel 20
Image
Components
4-part set comprising
2 mounts & 2 spacers
4-part set incl. screws
15 mm diameter
4-part set incl. screws
20 mm diameter
Weight capacity
Holds up to 6 kg
approx. 120 x 90 cm
Suitable for all photo sizes
Suitable for all photo sizes
Impression
"Floating" effect
High-quality stainless steel
High-quality stainless steel fixture
(AISI304)
Suitable for
Alu-Dibond
Other
Assembly instructions incl.
Assembly instructions incl.
Drilling & assembly instructions excl.
Price
£12.95
£23.80
£18.95
---
You may also like