With these mountings, you can easily secure your acrylic and Alu-Dibond prints to the wall.
---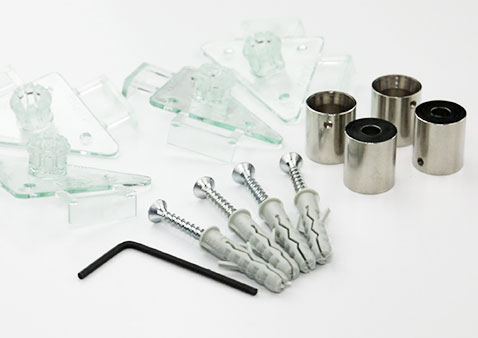 Ghost
This mounting system is a fixture for smaller photo sizes. Fitted to the back of the images, the "ghost" gives the impression of "floating".
4-part set incl. Screws
Holds up to 0.6 kg approx. 24 x 16 in (60 x 40 cm)
Distance from wall: 0.8 in (20 mm)
"Floating" effect
£12,95
---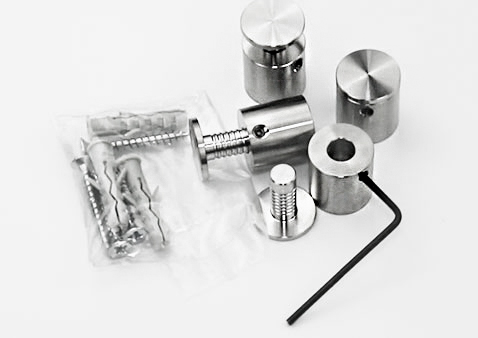 Steel 20
The high-quality stainless steel mount is elegant and modern at the same time. The fixture is secured with boreholes in the picture and is therefore a stable and safe alternative for heavier photo products..
4-part set incl. screws
Suitable for all sizes
High-quality stainless steel fixing
Diameter & distance from wall: 0.8 in (20 mm)
£19,95
---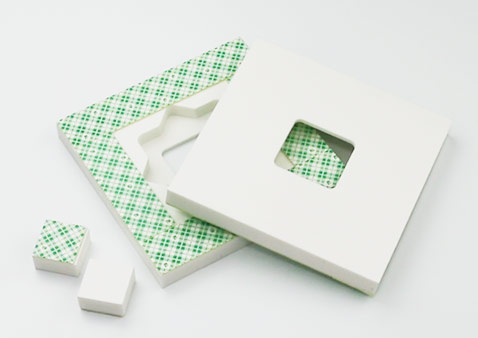 Couple
Bring your photos into the limelight with this mounting system. The fixture "Couple" is simply stuck onto the back of the photo and creates a "floating" effect.
Attention: in the case of brighter images the fixture can show through Alternative: "Steel 20" with boreholes .
4-part set incl. 2 mounts & 2 spacers
Holds up to 6 kg approx. 48 x 36 in (120 x 90 cm)
"Floating" effect
Distance from wall: 0.4 in (10 mm)
£10,95
---
Hanging acrylic pictures
We have developed various mounting systems for the simple and safe installation of your photo on acrylic glass. These not only ensure secure hold on the wall but also long-term stability of the hanging. We offer adhesive hanging kits with a free-floating appearance, as well as classic hanging systems with pre-drilled holes. We deliver clear, precise installation instructions with all of our hanging kits.
Tips and tricks for mounting pictures
Always work with a measuring stick, a spirit level and templates.
Finding the right height is important: Ideal would be the "golden ratio" – one third of the photo is above eye-level and two-thirds below.
Group acrylic prints together or arrange along an imaginary line.
If you are grouping photos together, the larger pictures should be in the middle.
Larger images are calming but only place them above big pieces of furniture and in large rooms.
Wide pictures are suitable for smaller walls.
Narrow, small pictures tell stories and are stimulating, above all in a group.
We offer the option of creating photo collages on acrylic glass.
Split glass images are suited to hanging in a grid pattern – in this way, a triptych can be positioned with the elements close together to particularly great effect.
Hanging kits overview
Hanging small acrylic glass photos

Our suspension kit for small acrylic images is called Ghost. The name stands for a four-piece mounting system, which is stuck on to the back of the glass. After hanging, the brackets will be invisible to the viewer, producing a free-floating effect. This system is suitable for small wall pieces of up to 0.6 kg.

Invisible glass picture hanging kit

Our best-selling mount for medium-sized photos on acrylic glass is the Couple hanging system. This is also installed on the back of the print and is invisible to the viewer of the image. Since the contact area of the Couple system is considerably larger than that of Ghost, Couple can hold pictures of up to 6 kg on the wall. The 2 cm distance to the wall created by the bracket offers the opportunity to install indirect room lighting. If lighting strips are attached behind the picture, these can be used as an additional source of light in the room.

When installing both the Ghost and Couple mounting systems, you should work with a template. This will ensure that the distances between the eyelets and the edge of the picture are the same and that your glass photo will later hang straight on the wall.

Attaching large acrylic prints to the wall

Even large format photos on glass can be hung securely and durably with the Steel20 hanging kit. This method of attachment works by using a simple stainless steel construction. The complete set also includes screws and wall plugs. And you don't have to worry about drilling into your photo: When you opt for the Steel20 system, your acrylic glass will be delivered already drilled. Steel20 is suitable for any size of acrylic photo.
Of course you can always mount your acrylic glass photo to the wall yourself. There are many creative solutions to arrive at the goal. But please remember that your high-quality UV direct print is sensitive to scratches so handle the glass with care.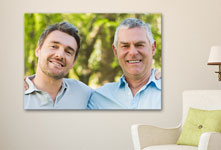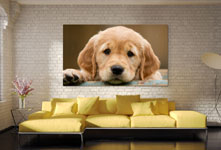 Gallery rails – another way to hang pictures
In the professional field, it is common to hang acrylic prints on the wall from picture rails. Especially if you plan to hang several glass pictures in a row with gallery flair, a picture rail is a good solution. Picture rails are installed along the ceiling of the room. One advantage of this sort of hanging system of acrylic glass photos is that no holes in the acrylic are necessary, since the photo on glass is hung directly on the rail using wires and hooks. This means that you can move your glass photo print around or replace them according to your whim.
This mounting system in a vernissage style naturally works not only with acrylic prints but also with Alu-Dibond photos or canvasses. Poster rails are also available, into which you can gently clip your photo posters. The materials for these are available in all good DIY stores.