High-gloss surface finish
3 mm or 8 mm glass thickness
Diamond polished edges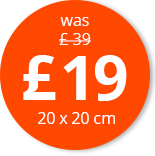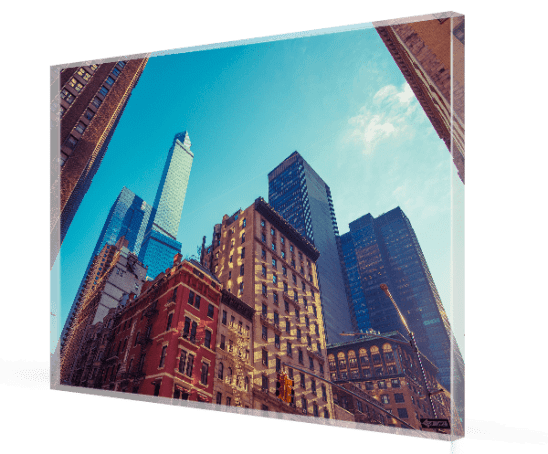 Get your Glass Photo Prints
1. Upload photo

2. Select size

3. Order glass photo print

---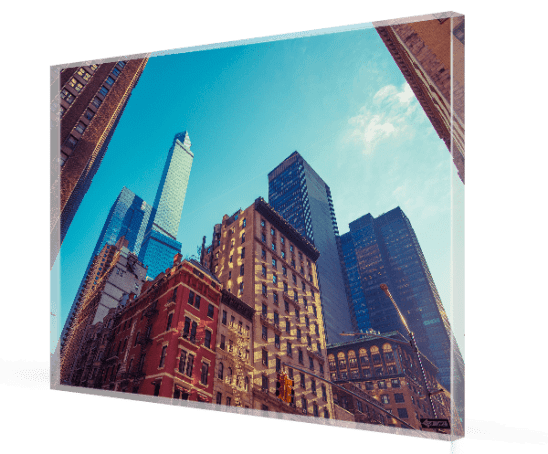 Your Photo on Glass
with diamond-cut edges
Photos printed on glass: With the 8 mm strong acrylic glass you will have a stunning 3D effect.
---
Ready to ship:
Monday, 11 Dec 2023
---
---
Glass Photo Prints
in two versions
We offer 2 different high-glossy versions.
Choose between 3 mm Standard version and the 8 mm Premium version.
---
---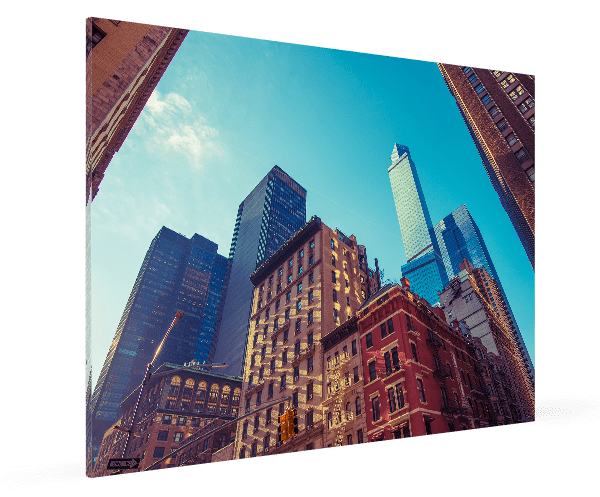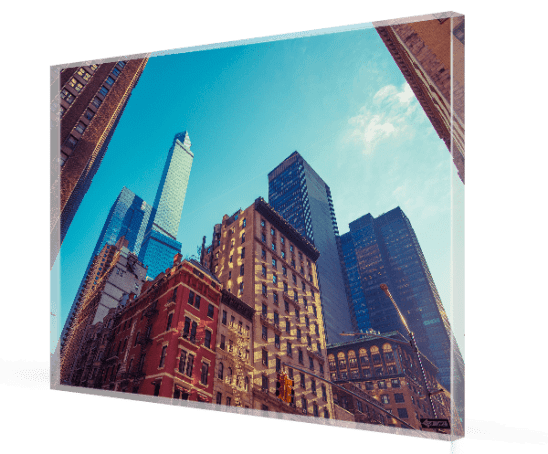 ---
Glossy Eye-Catcher: Pictures printed on Glass
Very few decorative elements can pep up a room so effortlessly as a beautiful photo print on glass. The combination of a personal photo and a minimalistic glazed surface always ensures amazingly attractive effects.
And photos on glass are even more versatile than many other decorative photo products. Whereas you have to think carefully about where you are going to hang your photo on canvas, etc., photos on glass give you all the decorative freedoms you can imagine. If you're looking for a robust, colourful and elegant decorative photo product, a photo print on glass is perfect for you.
Printing photos on glass: what you have to consider
In general, glass photo prints are straightforward and easy to produce. But if you want to make the absolute most of the advantages the medium provides over classic photo prints on canvas or other materials, it makes sense to be a little more meticulous in submitting your photo file.
Why the file is so important: good resolution is the name of the game when it comes to glass photo prints. Ideally, you will send us a file with at least 300 DPI to ensure the very best results. Once your photo has been printed, you can then enjoy not only the amazing printing quality but also the beautiful glossy effect of the glass.
Another advantage: your photos on glass are also reliably protected from soiling and other damaging influences. This means your photos will continue to look fantastic for a particularly long time! If you want to have a photo printed directly on to glass, acrylic glass is your best option. Compared to conventional glass, it has the advantage of being lighter and less fragile.
The high degree of transparency provided by acrylic glass is of particular benefit if you are thinking of installing backlighting for your picture. This will accentuate the colours and also provide some very original, indirect lighting for your room.
Bold colours and exceptional contrast: your own pictures printed on glass
Since photos on glass are so versatile and easy to care for, you are not especially restricted when it comes to choosing a motif. Glass photo prints will look good with many different motifs and themes.
But, as a rule of thumb, you should remember that it is pictures with strong colours and accentuated contrast that will bring the very best out of this medium. The results after direct printing are distinctive especially in their exceptionally high colour saturation.
You can probably deduce from this that certain images may not work just as well as glass photo prints, i.e. those with primarily light colours. Such pictures printed on glass could be problematic and the low contrasts should appear even more washed out. Other methods of printing, such as fine art prints or canvas prints, are much more suitable for this type of photo.
Print photos on glass: check. But how do I hang them?
One thing is clear: glass is considerably heavier than canvas and other media, so you won't be able to hang your glass photo prints quite the same way as other wall art. To make sure your photos on glass have a safe, secure spot on your wall, you can choose between different hanging systems during the ordering process that are specially tuned to glass photo prints. In doing so, you should keep a few basic things in mind.
Avoid mistakes when hanging your glass photo prints: for larger prints we recommend systems with drilled holes. This method sees four invisible holes being drilled into the rear corners of your picture, which you can then use for hanging. This ensures that even heavy glass photo prints can be mounted easily and securely on the wall.
If you've gone for a smaller photo print on glass, you can be more flexible. In this case, you have the exciting option of selecting a "free floating" mount for your picture. This original way of hanging your photos on glass underlines the unframed, minimalistic elegance of your glass photo prints and is at home in many different interior decorating styles.
---
Customer reviews
Michael T.
Review in United Kingdom
Product: Acrylic print Verified purchase
This is my second metal print and the quality is just as good as the first. The quality and the thinness of the raised plate make it stand out and look really professional.
Michael T.
Review in United Kingdom
Product: Acrylic print Verified purchase
I liked the lifelike colours and non-reflective service. Also the picture remains clear from every angle.

---
Alistair
Review in JERSEY
Product: Acrylic print Verified purchase
We ordered a 40x40cm acrylic glass print from a photo upload from our holiday. The order process was very easy and intuitive, communications good and delivery very prompt. The picture was well-packaged and arrived at our home in Jersey in perfect condition and was attached to our wall with the 'couple' fixings (optional extra) the morning after. Would certainly use again.

Mike
Review in 2ur
Product: Acrylic print Verified purchase
Quality print speed delivery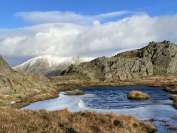 ---
---
---
Further information
Glass Photo print info
Prices
Delivery times
Mounting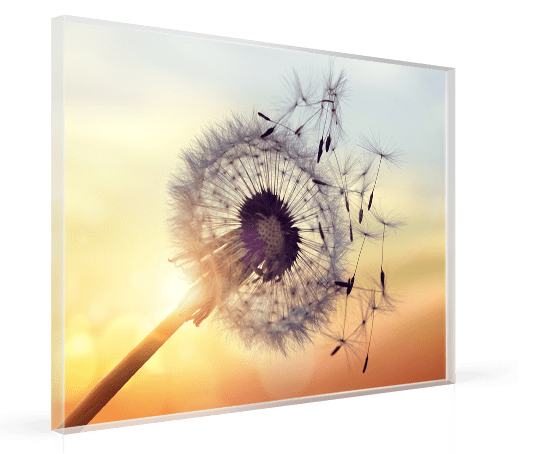 Glass Print Information
High gloss acrylic glass
Océ – Canon™ print technology
Up to 200 years' light resistance
Glass thickness: 3 or 8 mm
8 mm with diamond-cut edges
---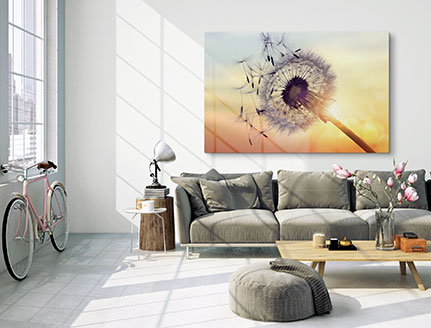 Detailed information
High gloss acrylic glass available in two choices of glass thickness 3 mm or 8 mm
Premium (8 mm) + diamond cut edges
Choice of 3 mounting systems – also "floating" hanging form
Printed directly on acrylic glass with Océ – Canon™ print technology including white print
Many acrylic print sizes also available with Next Day delivery
Glass printing also available in XXL sizes up to 2 metres
Your photo on glass is available in the following thickness: 3 mm / 8 mm
Size
RRP
Price
Choose size

XS

20 x 20 cm

£45.00

£19.00

£49.00

select

XS

30 x 20 cm

£20.00

£60.00

select

XS

40 x 30 cm

£67.00

£30.00

£70.00

select

S

40 x 40 cm

£35.00

£95.00

select

XS

45 x 30 cm

£75.00

£35.00

£95.00

select

S

60 x 40 cm

£45.00

£115.00

select

S

60 x 45 cm

£50.00

£120.00

select

S

60 x 60 cm

£105.00

£60.00

£140.00

select

M

80 x 60 cm

£115.00

£65.00

£165.00

select

M

80 x 80 cm

£80.00

£170.00

select

M

90 x 60 cm

£125.00

£70.00

£170.00

select

L

100 x 100 cm

£100.00

£250.00

select

L

120 x 80 cm

£175.00

£95.00

£245.00

select

L

120 x 90 cm

£175.00

£100.00

£250.00

select
Delivery discount available on multiple purchases (same size).
All sizes and prices
Prices incl. VAT.
When will your acrylic be delivered?
Choose a size
Destination
TODAYOrder
now

Next Day*
EXPRESSdelivery
guaranteed

PRIO**delivery
expected

Sat
Sun
Mon
Tue
Wed
Thurs
Fri
Sat
Sun
Mon
09
Dec.
10
Dec.
11
Dec.
12
Dec.
13
Dec.
14
Dec.
15
Dec.
16
Dec.
17
Dec.
18
Dec.
Order weekdays until 11 a.m.:
* Guaranteed delivery next working day
** Prioritised production and standard delivery
Our delivery companies:

---
Destination
| | Size | Next Day EXPRESS Upgrade | PRIO Upgrade | Delivery |
| --- | --- | --- | --- | --- |
| XS | 30 x 20 cm | £69.95 | £5.95 | £22.95 |
| XS | 40 x 30 cm | £69.95 | £5.95 | £22.95 |
| XS | 45 x 30 cm | £69.95 | £5.95 | £22.95 |
| S | 60 x 40 cm | £74.95 | £7.95 | £15.95 |
| S | 60 x 45 cm | £74.95 | £7.95 | £15.95 |
| S | 75 x 50 cm | £74.95 | £7.95 | £15.95 |
| M | 80 x 60 cm | £74.95 | £7.95 | £15.95 |
| M | 90 x 60 cm | £79.95 | £9.95 | £19.95 |
| M | 100 x 75 cm | £79.95 | £9.95 | £19.95 |
| M | 105 x 70 cm | £95.95 | £12.95 | £19.95 |
| L | 120 x 80 cm | £95.95 | £12.95 | £19.95 |
| L | 120 x 90 cm | £95.95 | £12.95 | £19.95 |
Prices incl. VAT.
Delivery discount available on multiple purchases (same size).
All prices and delivery times
Couple
Harry
Steel 20
Image
Components
4-part set comprising
2 mounts & 2 spacers
4-part set incl. screws
15 mm diameter
4-part set incl. screws
20 mm diameter
Weight capacity
Holds up to 6 kg
approx. 120 x 90 cm
Suitable for all photo sizes
Suitable for all photo sizes
Impression
"Floating" effect
High-quality stainless steel
High-quality stainless steel fixture
(AISI304)
Suitable for
Alu-Dibond
Other
Assembly instructions incl.
Assembly instructions incl.
Drilling & assembly instructions excl.
Price
£12.95
£23.80
£18.95
This might also interest you