Acrylic print in 3 steps
1. Upload photo

2. Select size

3. Order acrylic print

---
Vivid & stunning effects
A Panoramic Acrylic will bring epic views in brilliant colours into your home.
---
Ready to ship:
Monday, 6 Dec 2021
---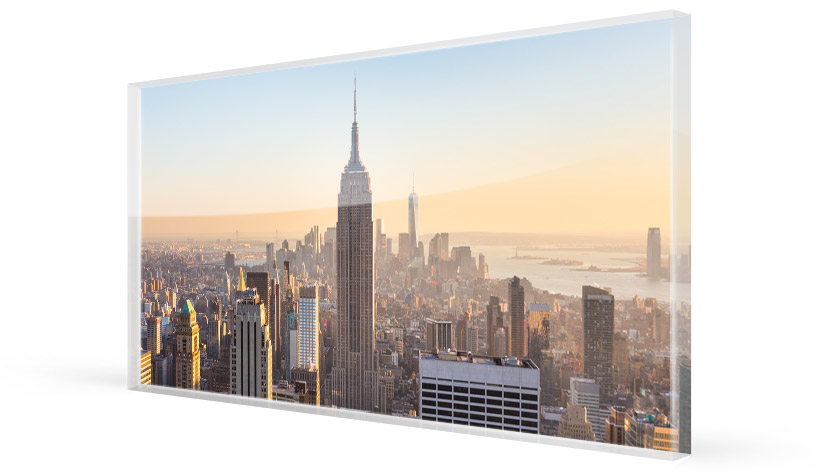 ---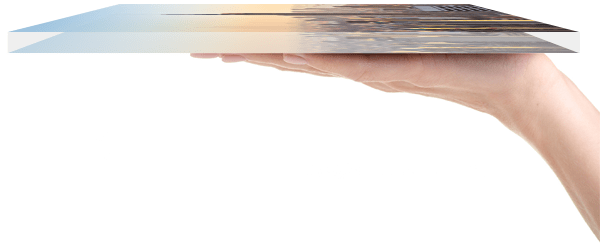 Diamond-polished
Panoramic Acrylic
Acrylic glass with polished edges is an amazing photo carrier. With the 8 mm thick plexiglass you'll have a stunning 3D effect.
---
Ready to ship:
Monday, 6 Dec 2021
---
---
2 versions available
Choose between 3 mm standard version and the 8 mm Premium version
The 8 mm acrylic has diamond-polished sides and will give your photo an incredible 3D effect.
---
---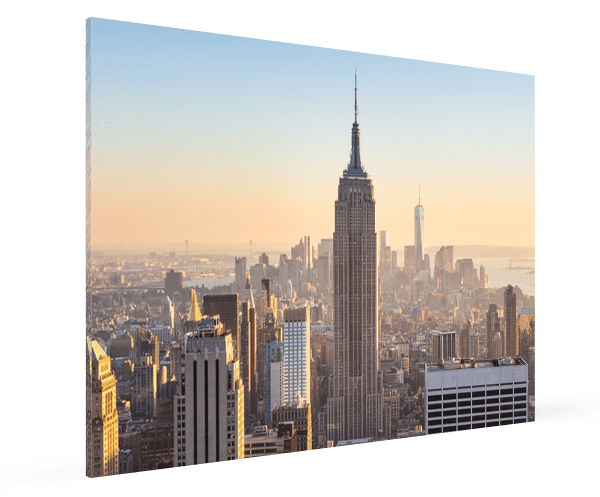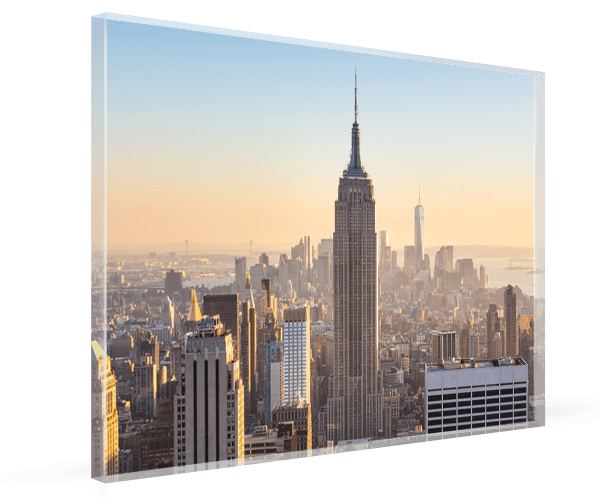 ---
Panoramic acrylic prints: an expanse of colour for your walls
A real eye-catcher in every room
The vast view of the open seas, endlessly expansive meadows or the distinctive skyline of a city: there are many motifs that are simply made for panoramic photo prints. And acrylic glass is ideal as a medium to give this narrow landscape format that extra portion of artistic charm. Your finished panoramic acrylic prints will embellish just about every room in your home.
The perfect acrylic glass panorama: not just a question of perspective
Panorama photography in itself is perfect for all motifs in which you play with the horizon. The unmistakable skyscrapers of New York or your own home city are just as popular as combinations of sky and water, meadows and woods. Nature photography is the absolute favourite on acrylic glass. Why? Acrylic glass, whether as a panorama or in any other format, is especially suitable for colour-intense images since it reproduces the colours with a particular brilliance and produces an impressive effect of depth.
Creative professional tip for your panoramic acrylic glass prints: Illuminate your panoramic acrylic photo prints from behind, for example with a string of lights. Acrylic glass is translucent, and backlighting will make the colours stand out even more. You can put this method to excellent effect for a panoramic acrylic glass print of a night skyline, for example, by arranging the string of lights in such a way that they illuminate the individual lights of the city.
Choice of material: perfection for your panoramic acrylic prints
We produce acrylic prints in two thicknesses: For a panoramic acrylic print with an edge-length of up to a metre or so, the thinner 3mm variant is sufficient. But we recommend selecting the thicker 8mm variant for lengths of more than one metre – and that's what most of our customers do. Your large-format panoramic acrylic prints will look even more impressive on the 8mm glass and above all are more dimensionally stable on the wall. In this variant, the edges of the print are also polished in a special way for an additional three-dimensional effect.
What you should also think about: Depending on the actual format of your picture, your panoramic acrylic prints can quickly become quite heavy. Although even the 8mm variant is still significantly lighter than real glass, you shouldn't rely on a simple adhesive hanging system for your panoramic acrylic prints but rather attach them to the wall using four screws.
Three ideas for the perfect spot for your panoramic acrylic prints
Since acrylic glass is not only lighter than classic glass but is also robust and resistant against damp and direct sunlight, there's hardly a place in which your panoramic acrylic prints can't become a central decorative feature.
In the bathroom: A view over the sea from your own bathtub – no problem with a panoramic acrylic print. Watermarks and limescale can be washed off with a little soapy water where necessary.
In the kitchen: The panoramic acrylic photo print is perfect for above the dining table or the kitchen counters since the long format mirrors the shapes of the furnishings. Just be careful about hot fats – these can damage the surface of your print.
Outdoors: Generally speaking, you can also hang your panoramic acrylic print at the entrance to your home or out on the patio, since rain and wind are no problem for this material. However, panoramas on metal are even more suitable for this purpose because the composite material is even more weather-resistant and durable outdoors.
---
Bring life to your walls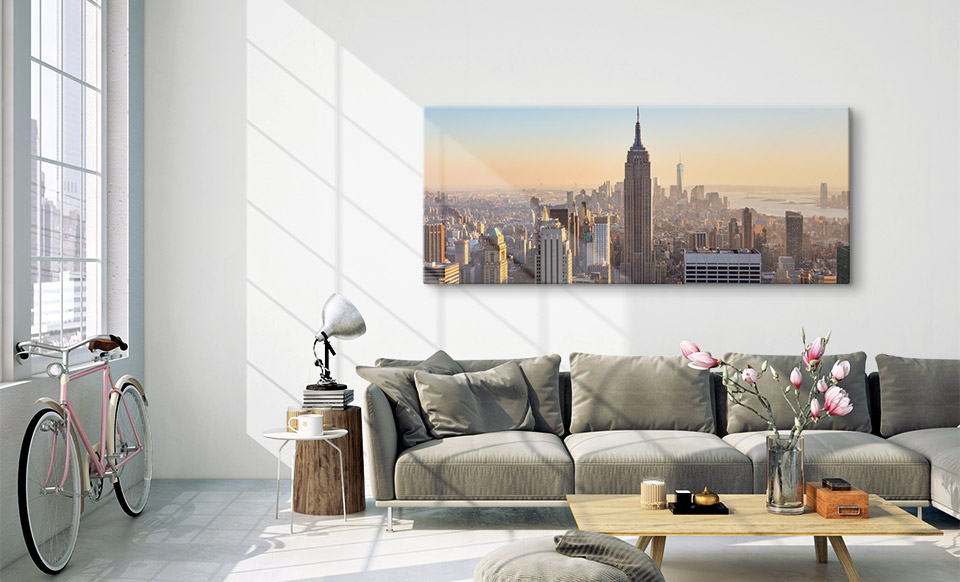 ---
Tip: We offer 3 clever hanging kits for your panoramic acrylic. For each size you'll find the perfect mounting.
---
Panoramic FAQs
How to hang the panoramic print?

Usually the panoramic acrylic is rather big and thus heavy. That's why sticky mountings are not always the best solution. For large panoramic photos with 8 mm thick glass we recommend drilled hangings. The STEEL hanging kit is the perfect way for safely bringing your print to the wall.

Check our easy mounting solutions & How-To guide

How heavy will the print be?

That depends on the size and glass thickness. You can easily check the weight of your print with our glass weight calculator. Just select your preferred size and glass thickness.

Which glass thickness do I need for a panoramic print?

Just follow this easy rule: The larger the size the thicker the glass should be. For sizes of 100 cm and larger we recommend the 8 mm thick plexiglass. It is more sturdy than the 3 mm standard version.

What's the maximum panoramic size?
---
Customer reviews
Tracy Kirrage
Review in Faversham
Product: Acrylic print Verified purchase
Very disappointed with the end result, wouldn't use this company again.
Anthony Winfield
Review in Stafford
Product: Acrylic print Verified purchase
Quality print production. Top quality product.
---
Peter Furner
Review in West Sussex
Product: Acrylic print Verified purchase
The reproduction of my photo on acrylic glass is stunning. The colours are sharp and the picture quality is fantastic. An excellent product and good value for money. It arrived quickly from Germany and was very well packaged too. A very happy customer!
Bryan Tunstall
Review in COLWYN BAY
Product: Acrylic print Verified purchase
I had a few issues with items damaged in transit and customer service was excellent! Great product and happy customer!
---
---
---
Further information
Acrylic print info
Prices
Delivery times
Mounting
Acrylic glass informations
High gloss acrylic glass
Océ – Canon™ print technology
Up to 200 years' light resistance
Glass thickness: 3 or 8 mm
8 mm with diamond-cut edges
---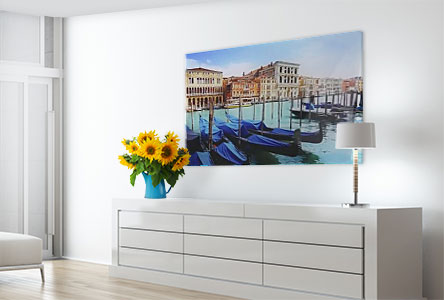 Detailed information
High gloss acrylic glass available in two choices of glass thickness with 3 mm or 8 mm
Premium (8 mm) + diamond cut edges
Choice of 3 mounting systems – also "floating" hanging form
Printed directly on acrylic glass with Océ – Canon™ print technology including white print
Many acrylic print sizes also available with Next Day delivery
Glass printing also available in XXL sizes up to 2 metres
Your acrylic photo is available in the following thickness: 3 mm / 8 mm
Panoramic
Size
RRP
Price
Choose size

XS

40 x 20 cm

£50.00

£70.00

select

XS

60 x 20 cm

£50.00

£90.00

select

S

80 x 40 cm

£60.00

£140.00

select

S

90 x 30 cm

£80.00

£170.00

select

M

90 x 45 cm

£110.00

£240.00

select

M

120 x 40 cm

£120.00

£280.00

select

M

120 x 60 cm

£90.00

£200.00

select

L

150 x 50 cm

£170.00

£420.00

select

L

150 x 75 cm

£240.00

£610.00

select
Delivery discount available on multiple purchases (same size).
All sizes and prices
Prices incl. VAT.
When will your acrylic be delivered?
Choose a size
Destination
TODAYOrder
now

Next Day*
EXPRESSdelivery
guaranteed

PRIO**delivery
expected

Sat
Sun
Mon
Tue
Wed
Thurs
Fri
Sat
Sun
Mon
04
Dec.
05
Dec.
06
Dec.
07
Dec.
08
Dec.
09
Dec.
10
Dec.
11
Dec.
12
Dec.
13
Dec.
Order weekdays until 11 a.m.:
* Guaranteed delivery next working day
** Prioritised production and standard delivery
Our delivery companies:

---
Destination
| | Size | Next Day EXPRESS Upgrade | PRIO Upgrade | Delivery |
| --- | --- | --- | --- | --- |
| XS | 30 x 20 cm | £69.95 | £5.95 | £22.95 |
| XS | 40 x 30 cm | £69.95 | £5.95 | £22.95 |
| XS | 45 x 30 cm | £69.95 | £5.95 | £22.95 |
| S | 60 x 40 cm | £74.95 | £7.95 | £15.95 |
| S | 60 x 45 cm | £74.95 | £7.95 | £15.95 |
| S | 75 x 50 cm | £74.95 | £7.95 | £15.95 |
| M | 80 x 60 cm | £74.95 | £7.95 | £15.95 |
| M | 90 x 60 cm | £79.95 | £9.95 | £19.95 |
| M | 100 x 75 cm | £79.95 | £9.95 | £19.95 |
| M | 105 x 70 cm | £95.95 | £12.95 | £19.95 |
| L | 120 x 80 cm | £95.95 | £12.95 | £19.95 |
| L | 120 x 90 cm | £95.95 | £12.95 | £19.95 |
Prices incl. VAT.
Delivery discount available on multiple purchases (same size).
All prices and delivery times
Couple
Harry
Steel 20
Image
Components
4-part set comprising
2 mounts & 2 spacers
4-part set incl. screws
15 mm diameter
4-part set incl. screws
20 mm diameter
Weight capacity
Holds up to 6 kg
approx. 120 x 90 cm
Suitable for all photo sizes
Suitable for all photo sizes
Impression
"Floating" effect
High-quality stainless steel
High-quality stainless steel fixture
(AISI304)
Suitable for
Alu-Dibond
Other
Assembly instructions incl.
Assembly instructions incl.
Drilling & assembly instructions excl.
Price
£12.95
£23.80
£18.95
---
---
This might also interest you