Large acrylic print in 3 steps
1. Upload photo

2. Select size

3. Order acrylic print

---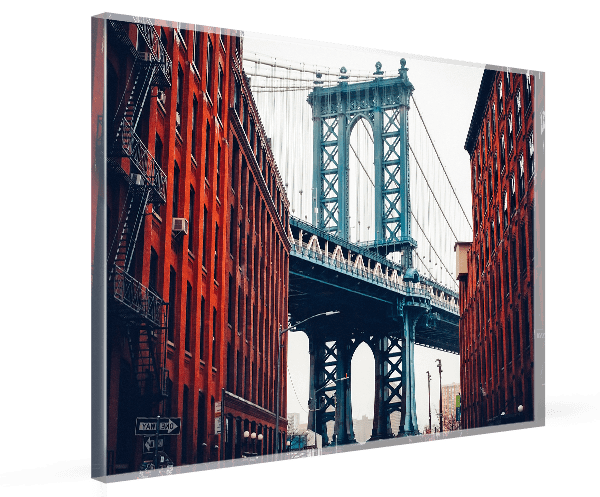 XXL Acrylic Print
with polished edges
A Plexi Print with polished edges is mind-blowing product: With the 8 mm strong acrylic glass you can look into the glass.
---
Ready to ship:
Monday, 11 Dec 2023
---
---
Large Acrylic Prints
in two versions
We offer our Acrylic prints in 2 different high-glossy versions.
Choose between 3 mm thick glass and the 8 mm Premium version.
---
---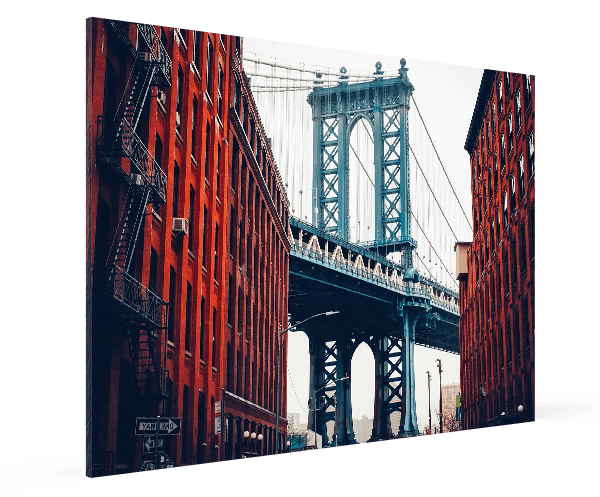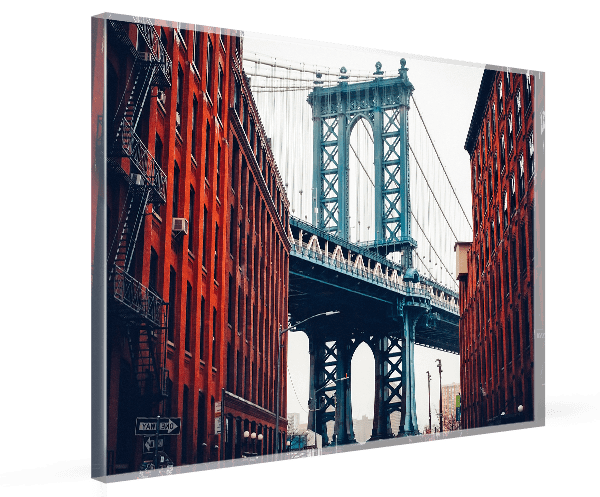 ---
Large acrylic prints: XXL motifs perfectly accentuated
The big moments deserve big dimensions: some motifs can only be shown to full effect in XXL formats. Bright, colourful photos in particular are perfect as a large-format print on acrylic. The acrylic glass used for these prints is robust, light and very versatile. With the right mounting systems, your large acrylic prints will be the highlight of every room.
This is what makes your large-format acrylic print so special
Acrylic glass is an extremely robust yet relatively light material that makes photos look particularly exquisite thanks to its high-gloss surface. The perfect motif for your large acrylic print: brightly coloured shots. Acrylic glass is known for its brilliant colour reproduction and impressive deep-view effect. This means that the vivid colours of a blossoming flower meadow or spectacular animal shots from your last holiday are ideal candidates for making a large-format work of art from a large acrylic print.
The perfect spots for your large acrylic photos: Not just above the sofa in the living room, your large acrylic photos will look amazing above the bathtub, in the shower or above the kitchen counter, too. Since the material is resistant against wet conditions and dampness and can be easily wiped down, you can also hang your large acrylic prints in the bathroom or kitchen without worry. You should just make sure to keep your artwork away from high heat and hot splashes of fat from the hob, for example.
Professional tip for more ambience: Use light to emphasise the rich colours of your large acrylic photo. With just a few basic DIY skills, you can add a string of lights to the back of the translucent glass so that individual areas of your photo are highlighted.
Do's and don'ts of large acrylic photo prints
An acrylic photo print is considered large format when it has a size of around 140 x 105 cm or 150 x 100cm. You should order this format with a material thickness of 8 mm. We also offer acrylic glass photo prints on 3 mm-thick glass but large-format prints will only enjoy full stability and robustness in the thicker variant. If a large acrylic print is produced on glass that is only 3 mm thick, there's a chance that the picture could warp or even break over time.
What you should also avoid: trying to save money when it comes to mounting your large acrylic prints. Although acrylic glass is relatively light when compared to real glass, large acrylic prints can quickly weight up to 30 kg and the hanging system has to be appropriately robust. Invisible hanging systems are not suitable; instead, you should have four holes drilled into the corners and mount your large acrylic print securely on the wall with stainless steel screws.
---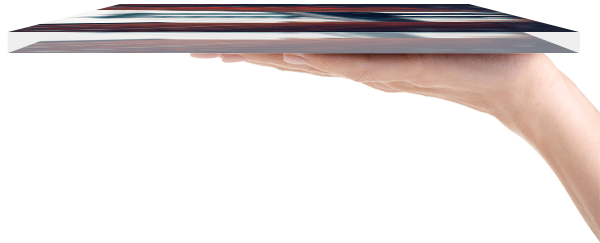 Large Plexiglass Photos with impressive depth
The 8 mm strong version stabilizes the large size and makes you look "into the photo".
---
Ready to ship:
Monday, 11 Dec 2023
---
---
Big moments deserve big sizes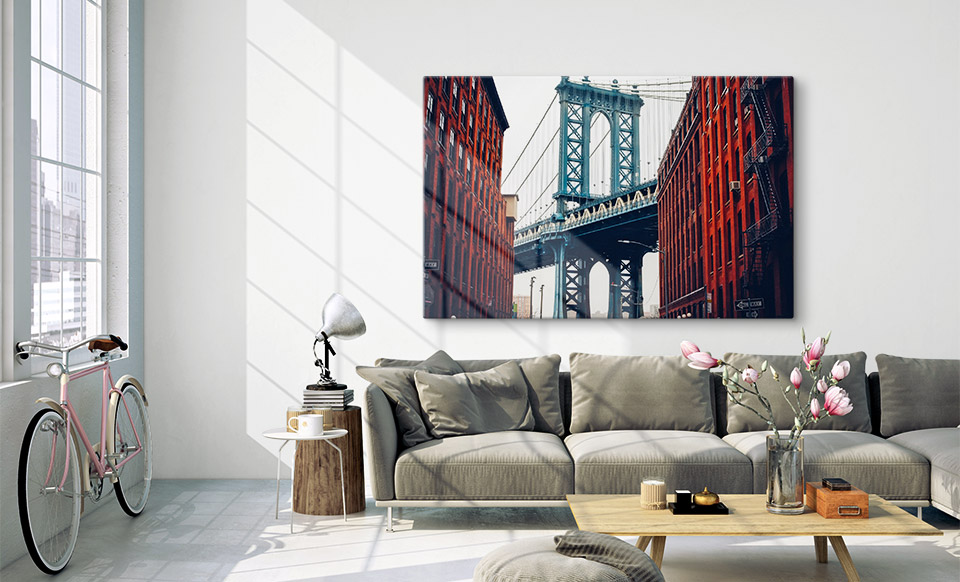 ---
---
Any questions?
How to safely mount the Acrylic Photo?

Large photos printed on plexiglass can weigh up to 30 kg. That's why they need strong mountings. For XXL acrylic prints we recommend our STEEL hangings.

Find out more about hanging large perspex prints.

How can I calculate the weight of my acrylic print?

You can easily check the weight for any size and glass thickness with our free

weight calculator

.

How thick should the glass be for very large prints?

The simple rule is: The larger the size the thicker the glass.. For prints of 100 cm and more we recommend the 8 mm strong acrylic glass.

It is way more stable than the 3 mm standard version.

What's the max. size for XXL Acrylic Photo Print?

Our standard sizes go up to 120 x 90 cm. For these sizes our PRIO Print Service is also available. On our site you can directly order prints up to 160 x 120 cm.

If requested we can print up to 350 x 150 cm max.
---
Your large acrylic print in different sizes


40 x 30 cm


60 x 40 cm


80 x 60 cm


120 x 90 cm


160 x 120 cm
---
---
Tip: The JPEG photo format is ideal for uploading and ordering your large acrylic prints.
---
Customer reviews
Michael T.
Review in United Kingdom
Product: Acrylic print Verified purchase
This is my second metal print and the quality is just as good as the first. The quality and the thinness of the raised plate make it stand out and look really professional.
Michael T.
Review in United Kingdom
Product: Acrylic print Verified purchase
I liked the lifelike colours and non-reflective service. Also the picture remains clear from every angle.

---
Alistair
Review in JERSEY
Product: Acrylic print Verified purchase
We ordered a 40x40cm acrylic glass print from a photo upload from our holiday. The order process was very easy and intuitive, communications good and delivery very prompt. The picture was well-packaged and arrived at our home in Jersey in perfect condition and was attached to our wall with the 'couple' fixings (optional extra) the morning after. Would certainly use again.

Mike
Review in 2ur
Product: Acrylic print Verified purchase
Quality print speed delivery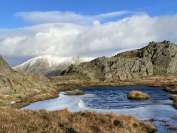 ---
---
---
Further information
Acrylic print info
Prices
Delivery times
Mounting
Acrylic glass informations
High gloss acrylic glass
Océ – Canon™ print technology
Up to 200 years' light resistance
Glass thickness: 3 or 8 mm
8 mm with diamond-cut edges
---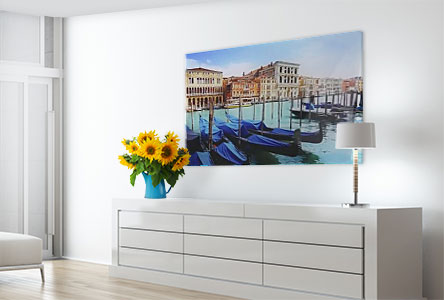 Detailed information
High gloss acrylic glass available in two choices of glass thickness 3 or 8 mm
Premium (8 mm) + diamond cut edges
Choice of 3 mounting systems – also "floating" hanging form
Printed directly on acrylic glass with Océ – Canon™ print technology including white print
Many acrylic print sizes also available with Next Day delivery
Glass printing also available in XXL sizes up to 2 metres
Your acrylic photo is available in the following thickness: 3 mm / 8 mm
Size
RRP
Price
Choose size

XS

20 x 20 cm

£45.00

£19.00

£49.00

select

XS

30 x 20 cm

£20.00

£60.00

select

XS

40 x 30 cm

£67.00

£30.00

£70.00

select

S

40 x 40 cm

£35.00

£95.00

select

XS

45 x 30 cm

£75.00

£35.00

£95.00

select

S

60 x 40 cm

£45.00

£115.00

select

S

60 x 45 cm

£50.00

£120.00

select

S

60 x 60 cm

£105.00

£60.00

£140.00

select

M

80 x 60 cm

£115.00

£65.00

£165.00

select

M

80 x 80 cm

£80.00

£170.00

select

M

90 x 60 cm

£125.00

£70.00

£170.00

select

L

100 x 100 cm

£100.00

£250.00

select

L

120 x 80 cm

£175.00

£95.00

£245.00

select

L

120 x 90 cm

£175.00

£100.00

£250.00

select
Delivery discount available on multiple purchases (same size).
All sizes and prices
Prices incl. VAT.
When will your acrylic be delivered?
Choose a size
Destination
TODAYOrder
now

Next Day*
EXPRESSdelivery
guaranteed

PRIO**delivery
expected

Sat
Sun
Mon
Tue
Wed
Thurs
Fri
Sat
Sun
Mon
09
Dec.
10
Dec.
11
Dec.
12
Dec.
13
Dec.
14
Dec.
15
Dec.
16
Dec.
17
Dec.
18
Dec.
Order weekdays until 11 a.m.:
* Guaranteed delivery next working day
** Prioritised production and standard delivery
Our delivery companies:

---
Destination
| | Size | Next Day EXPRESS Upgrade | PRIO Upgrade | Delivery |
| --- | --- | --- | --- | --- |
| XS | 30 x 20 cm | £69.95 | £5.95 | £22.95 |
| XS | 40 x 30 cm | £69.95 | £5.95 | £22.95 |
| XS | 45 x 30 cm | £69.95 | £5.95 | £22.95 |
| S | 60 x 40 cm | £74.95 | £7.95 | £15.95 |
| S | 60 x 45 cm | £74.95 | £7.95 | £15.95 |
| S | 75 x 50 cm | £74.95 | £7.95 | £15.95 |
| M | 80 x 60 cm | £74.95 | £7.95 | £15.95 |
| M | 90 x 60 cm | £79.95 | £9.95 | £19.95 |
| M | 100 x 75 cm | £79.95 | £9.95 | £19.95 |
| M | 105 x 70 cm | £95.95 | £12.95 | £19.95 |
| L | 120 x 80 cm | £95.95 | £12.95 | £19.95 |
| L | 120 x 90 cm | £95.95 | £12.95 | £19.95 |
Prices incl. VAT.
Delivery discount available on multiple purchases (same size).
All prices and delivery times
Couple
Harry
Steel 20
Image
Components
4-part set comprising
2 mounts & 2 spacers
4-part set incl. screws
15 mm diameter
4-part set incl. screws
20 mm diameter
Weight capacity
Holds up to 6 kg
approx. 120 x 90 cm
Suitable for all photo sizes
Suitable for all photo sizes
Impression
"Floating" effect
High-quality stainless steel
High-quality stainless steel fixture
(AISI304)
Suitable for
Alu-Dibond
Other
Assembly instructions incl.
Assembly instructions incl.
Drilling & assembly instructions excl.
Price
£12.95
£23.80
£18.95
---
---
This might also interest you