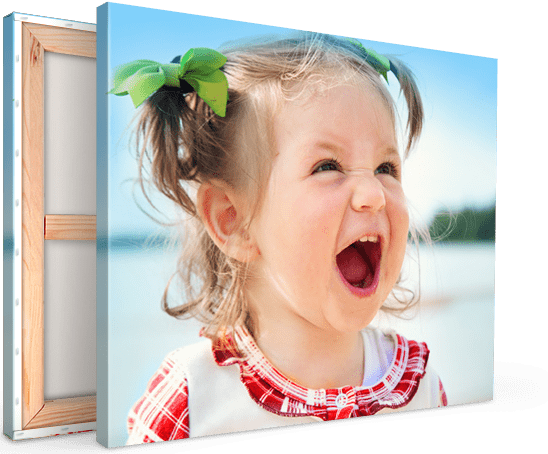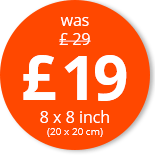 Your photo in XXL
Real wooden frame
Ready to hang
ready for dispatch:
Thursday, 11 Aug 2022

Canvas print in 3 steps
1. Upload photo

2. Choose a size

3. Order photo on canvas

---
Customer reviews
Richard
Review in Thurso
Product: Canvas print Verified purchase
I am very pleased with the quality of my photo on the acrylic glass. This is my first time choosing Acrylic glass and I was not disappointed. It order process was simple. My work was delivered on time. Very pleased.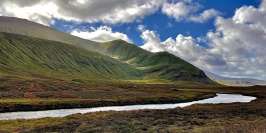 Brian
Review in Birmingham
Product: Canvas print Verified purchase
The ordering process was easy and quick, however, when the items arrived in the UK, UPS (the carrier) managed to damage the items so that part of the deal wasn't good. Subsequently, all correspondence and conversations with Acrylic Glass Photo customer services were super helpful... they sent replacements with no cost to myself in a super quick fashion. I wish that UPS would take some lessons in customer services from AGP. The most important part of this review was the quality of my order... perfect! Thank you AGP I will be using you again.
---
Ria
Review in Carmarthenshire
Product: Canvas print Verified purchase
5* printing quality. very happy I will be using again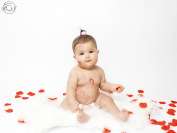 Eleanor W.
Review in United Kingdom
Product: Canvas print Verified purchase
Just love my photo of the flamingo. First time of having a acrylic photo done which looks stunning on the wall. Great price also.

---
---
---
Further information
Canvas print info
Prices
Delivery times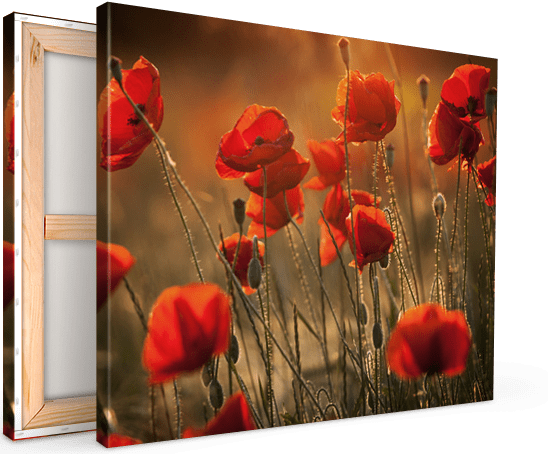 Canvas information
Real canvas made from 100% cotton
Fastened onto wooden frame
Modern HP© printing technology
75 year colour guarantee
---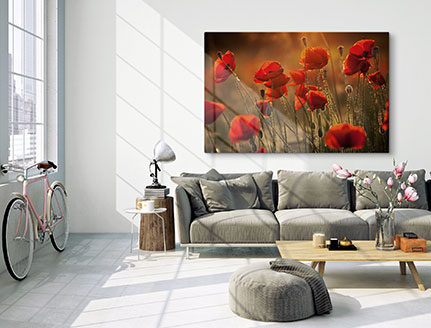 Detailed information
Original artist canvas made from 360 g/m² cotton with a smooth linen structure
Fastened onto wooden frame + 8 tensioning wedges incl.
Modern canvas printing technology with HEWLETT PACKARD© (HP - True Colour Technology)
Choice of frame: standard 2 cm or gallery 4 cm
PRIO production or Next Day EXPRESS delivery available
Environmentally friendly: produced from over 99% sustainable raw materials
Your canvas is available in the following thickness: 2 cm / 4 cm
Size
RRP
Price
Choose size

XS

20 x 20 cm

£30.00

£19.00

£30.00

select

XS

30 x 20 cm

£20.00

£25.00

select

XS

30 x 30 cm

£25.00

£35.00

select

XS

40 x 30 cm

£69.00

£30.00

£40.00

select

XS

40 x 40 cm

£30.00

£40.00

select

S

50 x 50 cm

£45.00

£55.00

select

S

60 x 40 cm

£45.00

£55.00

select

S

70 x 50 cm

£50.00

£63.00

select

M

80 x 60 cm

£99.00

£65.00

£75.00

select

M

90 x 60 cm

£99.00

£70.00

£90.00

select

L

120 x 80 cm

£100.00

£115.00

select

XL

150 x 100 cm

£150.00

£170.00

select
Delivery discount on multiple purchases (same size)
.
When will your canvas print be delivered:
TODAYOrder
now

Next Day*
EXPRESSdelivery
guaranteed

PRIO**delivery
expected

STANDARDdelivery
expected

Thurs
Fri
Sat
Sun
Mon
Tue
Wed
Thurs
Fri
Sat
11
Aug.
12
Aug.
13
Aug.
14
Aug.
15
Aug.
16
Aug.
17
Aug.
18
Aug.
19
Aug.
20
Aug.
Order weekdays until 11 a.m.:
* Guaranteed delivery next working day
** Prioritised production and standard delivery
Our delivery companies:

---
Delivered to
| | Size | Next Day EXPRESS Upgrade | PRIO Upgrade | Delivery |
| --- | --- | --- | --- | --- |
| XS | 30 x 20 cm | £69.95 | £5.95 | £22.95 |
| XS | 40 x 30 cm | £69.95 | £5.95 | £22.95 |
| XS | 45 x 30 cm | £69.95 | £5.95 | £22.95 |
| S | 60 x 40 cm | £74.95 | £7.95 | £15.95 |
| S | 60 x 45 cm | £74.95 | £7.95 | £15.95 |
| S | 75 x 50 cm | £74.95 | £7.95 | £15.95 |
| M | 80 x 60 cm | £74.95 | £7.95 | £15.95 |
| M | 90 x 60 cm | £79.95 | £9.95 | £19.95 |
| M | 100 x 75 cm | £79.95 | £9.95 | £19.95 |
| M | 105 x 70 cm | £95.95 | £12.95 | £19.95 |
| L | 120 x 80 cm | £95.95 | £12.95 | £19.95 |
| L | 120 x 90 cm | £95.95 | £12.95 | £19.95 |
Prices incl. VAT.
Delivery discount on multiple purchases (same size)
All delivery prices and times
---
---
Digital printing onto canvas
With the digital printing of photos onto canvas, the photo canvas print has become one of the most popular decorative products for walls. Today, everyone can print their own favourite photo on canvas with little effort. The canvas is stretched after printing on a frame made of wood. The result is your own photo as a whole new image experience. Now you can enjoy your photo in XXL format and full-size as art in your own living room.
Canvas prints - your photo in large format
For the most beautiful pictures, large format on canvas is particularly worthwhile. Canvas prints - your photo in large format, they are especially impressive in XXL sizes. But even smaller format canvas photos have amazing results through the combination of interesting motifs. We can create any special format for you between the sizes 20 x20 cm and 240 x 120 cm. With customised canvasses, we'll bring your ideas to life.
Your canvas, your format – choose between classic, square or panoramic
Your image is decisive when it comes to choosing a format. After all, not every photo looks just as good in panoramic or square format. So make sure when you are selecting a format that the motif remains as it is. We offer every image format in a wide range of sizes. Try out a few sizes for your photo in advance. If you realise when you are ordering that another format would, in the end, be better, you can still change it during the ordering process. The most beautiful photo from your weekend trip will look particularly fascinating as a Panoramic or as a square canvas split image, for example.
The most popular formats are:
Digital photo format 4:3
Square photo on canvas
Panoramic print (aspect ratio 2:1 and 3:1)
Classic 3:2 format
Photo collage
Split photos
XXL formats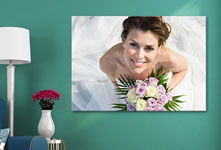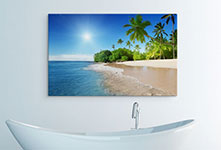 What do you need to consider when having your photo printed on canvas?
These days it's all the same if you photograph with a smartphone, with a digital camera or an SLR – at least it is if you are printing onto canvas. This is because even smartphone photos are perfectly suitable for this medium. The resolution of modern mobile phone cameras are usually well above 5 megapixels – a resolution with which just about any photo can be printed onto canvas. What affects the quality of the canvas print, however, is the quality of the photos. The best possible sharpness and optimal colour detail will also lead to a better result.
But you don't have to worry about this when uploading your photo. Our automatic quality-check system will recognise if your photo doesn't have sufficient resolution and will reject the upload. The photo will not be accepted as a canvas picture and will not be approved for printing. And you will have the opportunity to select a more suitable image.
Your photo on canvas will be particularly successful when:
your image has sufficient resolution.
your picture is saved in very good image quality as a JPEG file.
the sharpness is optimal right across the image
the colours have been checked and adjusted as necessary.
Hanging your canvas
Hanging a canvas print is really not very difficult. Usually it's enough to hammer one nail into the wall at the required height. Then you can hang the wooden frame of the canvas on the nail. We recommend that you use two nails for larger canvasses of 1 metre or more in width. For more precise positioning and longer enjoyment of your photo on canvas, you should use a yardstick and spirit level when hanging your picture.