Illuminated acrylic glass photos
---
Acrylic glass with background lighting reaches new levels when it comes to eye-catching photos.
While also possessing material qualities like being weather-, break- and scratch-resistant, acrylic glass is also translucent and therefore has other interesting uses. Background lighting turns a high-resolution photo into a very special visual expeience.
Similar to a large-screen TV, the image appears brightly lit, while also possessing greater colour brilliance and stillness. This ensures the photo resolution is up to 15 times better. The acrylic glass photo is impressively illuminated through bright colours and high contrasts, creating a unique visual experience.
Find out more about acrylic glass material and quality. This information can make it easier for you to decide, particularly if you are unsure whether the acrylic print is the right option for your selected photo.
---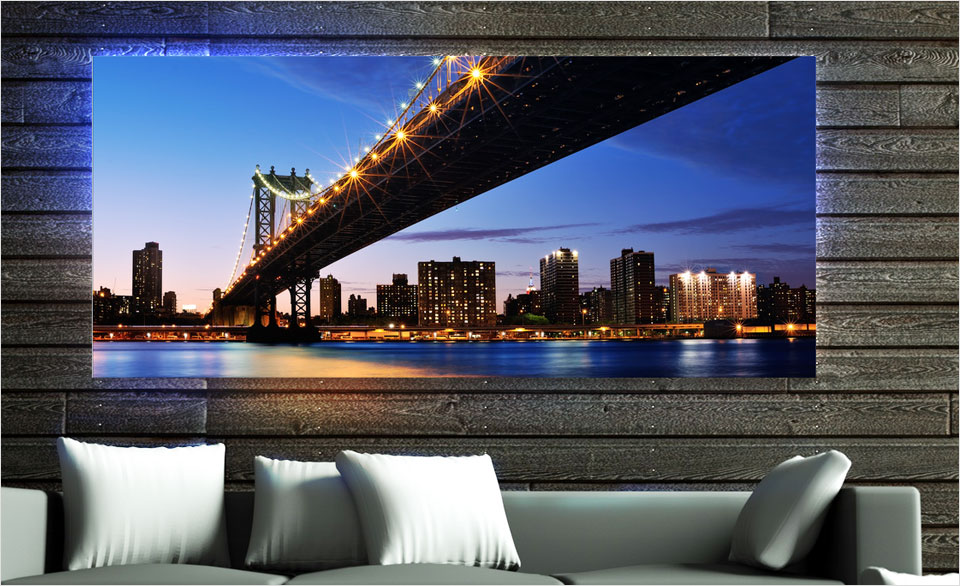 ---
Acrylic print as part of a lighting concept
Today the use of background lighting with acrylic glass photos is a part of modern lighting concepts in stylish cafes and trendy bars, as the diffused and refracted light creates an ambient atmosphere. This is definitely one of the main reasons why the acrylic glass print is becoming more and more popular in the service and catering sector.
However such a piece is also perfectly suited for your own home. For example, in the entrance area of an apartment or a house. Here you can perfectly portray your favourite images, be they of family, friends or nature. The glass photo print can also be used as a sign or advertisement. Design your image with a photo-editing system and then save it as a JPEG or PNG file.
---
Possible locations for back-lit acrylic glass
Acrylic glass photos can be used in many different places, both in private or public buildings. The following is a list of the most popular locations where our customers have placed back-lit acrylic glass photos.
Trendy bars and cafes
Light-orientated wellness or spa rooms
Exhibition stands and displays
Lighting boxes and displays
---
Illuminating acrylic glass photos
Due the exceptional material, photos on acrylic glass have excellent properties for lighting. Aside from the option of lighting them directly, they can also be used as light sources themselves. Acrylic prints allow lighting to be installed from behind as a lamp. This type of lighting of a photo on acrylic glass is relatively simple to arrange since the wall brackets already provide the necessary distance between the photo and the wall. When you now install a cheap LED lighting strip behind the picture, you'll have a spectacular lighting display in your own home. This method of lighting also creates a very pleasant, diffused source of light in your room. Here, we present a few variations for lighting your acrylic photo on glass: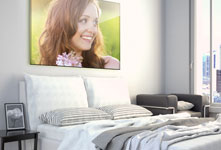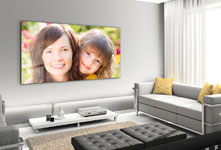 Spotlights – draw attention to your acrylic glass photo with light
If you happen to have small halogen lamps at home, you can use these as a spotlight. By training the lighting on certain areas of the acrylic print, these will stand out more. This leads to reflections in the glass, which, when cleverly placed, can produce a very high-class look.
Glowing halo – photos on glass with backlighting
It is not difficult to equip an acrylic photo with backlighting. The easiest method is lighting indirectly using LED lights. These are available as a strip rolled into a coil with a self-adhesive underside. Simply stick the strip to the back of your acrylic print along the edges. Lighting the Plexiglas with LEDs has another advantage: If you are using strips, not only can these be stuck directly on to the back of the glass, but they can also easily be cut to the required length. There are other options, too, for LED lighting: You will find LED strips for lighting your photo on glass in DIY or hardware stores.
Lighting effects - alternating colours in your home
Lights in various colours provide some variety in the lighting of your acrylic glass prints. You can either choose your favourite colour for the lights, which you can then attach to the back of your photo, or, if you can't decide, you can attach an LED strip with alternating colours. Once this is installed behind your glass photo, you can have your picture radiate in alternating colours according to the mood – alternating either automatically or according to your setting. LED strips for acrylic glass lighting are available in following colours:

White (bright or warm)
Green
Red
Blue
Yellow
Pink
UV light

Otherwise you can use the "multicolour" version of the LED strips. With this product, you can set your favourite colour or have the colours alternate automatically.
Acrylic print lighting - indoors and outdoors
You can also illuminate photos under acrylic glass in the kitchen, in the bathroom or even outside. Photos on acrylic glass are weather-proof and waterproof and are therefore ideal for displaying outside. You can also hang your glass photo in damp rooms such as the kitchen or bathroom, or even on the patio. This way, you can conjure up a beautiful light right there where you want to be, because the great thing about LED lighting is that it is resistant to dust, dirt and moisture.
The best thing about these strips: they often come supplied with a remote control. This means that you can adjust the atmosphere of the room from the comfort of your sofa – or even from the bath! You can easily switch the colour, vary the tone of the lighting or dim the brightness. All at the touch of a button.