Collage acrylic print in 3 steps
1. Upload photo

2. Select size

3. Order acrylic photo collage

---
More than 250 free templates
---
Your photo collage printed on Perspex
Photo collages are a creative gift idea. Printed on acrylic your gift will shine like a star.
---
Ready to ship:
Thursday, 11 Aug 2022
---
Create Collage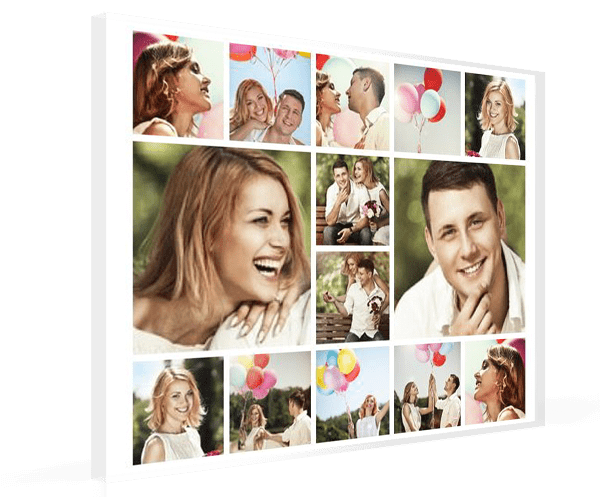 ---
Your photo collage on Perspex
Just a few mouse-clicks
Do you love putting together your own decorative photo creations? Then you've probably thought about making a collage at some point. If you've always been put off by the work involved and the sometimes middling quality of DIY collages, we have good news for you: you can put together your photo collage on acrylic glass online with just a few mouse-clicks. We've made the tedious process super-easy and super-fast.
Thanks to our simple & free tools, basically all you have to do is upload your photos, arrange them in one of our templates and voilà: your new photo collage on acrylic glass is done!
The acrylic print collage: photo printing for individual design enthusiasts
We've all heard the sayings "You can't have everything" and "Less is more". Although these prove true in lots of ways, they don't always apply when it comes to creativity and design. Those of us in particular who go by the motto "variety is the spice of life" tend to actively seek out variety and diversity. And, of course, this should be reflected in our own homes, too. No photo decoration makes it easier to express your own personal ideas than a collage.
With your photo collage on acrylic, you can tell a story and design your selection of photos around portraying a particular, personal message. If you know that you want to make a collage but don't have the right photos for it yet, you can turn the whole thing into a project, for example.
Just come up with your theme and go on a photo safari for the pictures to match your theme. You can also achieve beautiful and unconventional effects with your photo collage when you choose rather contradictory images that illustrate a moment or an event from different perspectives. Your imagination will know no boundaries!
Your photo collage on acrylic as a gift
But the photo collage isn't only something for your own four walls. Thanks to its diverse combination options and its excellent printing quality, the photo collage on acrylic glass is also the perfect gift for family and friends. Whether the Ibiza holiday with your best friends, a merry family party or the wedding of your brother: a photo collage will allow you plenty of space to immortalise those special moments with your nearest and dearest. This makes it a beautiful, practical and very personal gift. After all, every room is made more beautiful with especially emotional photos of familiar faces. Our tip for you: in our 250 free templates, you'll find not only different formats for square collages, but you also have the option of arranging your photos into heart-shapes, number-shapes and other original forms. Depending on the occasion, you can even make your photo gift with that extra special wow-factor!
Photo collage on plexiglass – guarantee the perfect result!
If you've already had the experience of ordering an acrylic print collage, you'll know that this material is not only amazingly top-quality but is also practically indestructible. We can also print your collage on to extra-sturdy 8 mm-thick acrylic glass. So, if you want to make sure that your glass photo collage stays looking great, acrylic glass is the perfect choice. There's not a lot more that you have to think about on our partner site photo-collage.net. Simply select a photo collage template and upload up to 100 photos.
You can then use one of our templates to arrange and scale your photos until the collage looks exactly how you want it to look. Works every time: you can avoid any formatting problems by making sure you upload your photos in JPEG format. The tool will then generate your photo collage for you as a printing file – easy and straightforward. Now you can have your photo collage printed hassle-free and without having to go to the bother of exporting.
---
Tip: The JPEG photo format is ideal for uploading and ordering your large acrylic prints.
Any questions?
How many photos can use for my collage?

We offer templates between 2 and 100 photos. In addition we have a wide range of thematic templates. All in all you can choose between 250 free templates.

Can I add text or a message to my collage?

Yes! We offer various templates with optional text elements. You can edit your text with regard to font, size and colour.

What layouts can I choose from?

You can create a number-, letter-, name-, heart- and standard-shaped collage. Just choose your template & upload your photos. Our tool will automatically fill the template.

How long does delivery take?

We offer a 24h next day delivery service. Your collage will be printed the same day and dispached the following day.
Further information
Acrylic print info
Prices
Delivery times
Mounting
Acrylic glass informations
High gloss acrylic glass
Océ – Canon™ print technology
Up to 200 years' light resistance
Glass thickness: 3 or 8 mm
8 mm with diamond-cut edges
---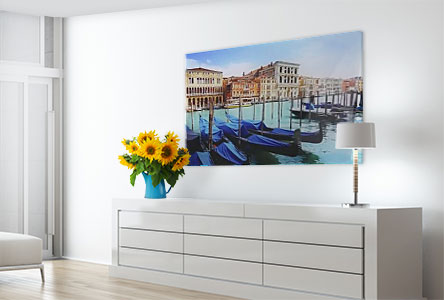 Detailed information
High gloss acrylic glass available in two choices of glass thickness 3 or 8 mm
Premium (8 mm) + diamond cut edges
Choice of 3 mounting systems – also "floating" hanging form
Printed directly on acrylic glass with Océ – Canon™ print technology including white print
Many acrylic print sizes also available with Next Day delivery
Glass printing also available in XXL sizes up to 2 metres
Your acrylic photo is available in the following thickness: 3 mm / 8 mm
Size
RRP
Price
Choose size

XS

20 x 20 cm

£45.00

£19.00

£49.00

select

XS

30 x 20 cm

£20.00

£60.00

select

XS

40 x 30 cm

£65.00

£30.00

£70.00

select

XS

40 x 40 cm

£35.00

£95.00

select

XS

45 x 30 cm

£75.00

£35.00

£95.00

select

S

60 x 40 cm

£45.00

£115.00

select

S

60 x 45 cm

£50.00

£120.00

select

S

60 x 60 cm

£105.00

£60.00

£140.00

select

M

80 x 60 cm

£115.00

£65.00

£165.00

select

M

80 x 80 cm

£80.00

£170.00

select

M

90 x 60 cm

£125.00

£70.00

£170.00

select

L

100 x 100 cm

£100.00

£250.00

select

L

120 x 80 cm

£175.00

£95.00

£245.00

select

L

120 x 90 cm

£175.00

£100.00

£250.00

select
Delivery discount available on multiple purchases (same size).
All sizes and prices
Prices incl. VAT.
When will your acrylic be delivered?
Choose a size
Destination
TODAYOrder
now

Next Day*
EXPRESSdelivery
guaranteed

PRIO**delivery
expected

STANDARDdelivery
expected

Thurs
Fri
Sat
Sun
Mon
Tue
Wed
Thurs
Fri
Sat
11
Aug.
12
Aug.
13
Aug.
14
Aug.
15
Aug.
16
Aug.
17
Aug.
18
Aug.
19
Aug.
20
Aug.
Order weekdays until 11 a.m.:
* Guaranteed delivery next working day
** Prioritised production and standard delivery
Our delivery companies:

---
Destination
| | Size | Next Day EXPRESS Upgrade | PRIO Upgrade | Delivery |
| --- | --- | --- | --- | --- |
| XS | 30 x 20 cm | £69.95 | £5.95 | £22.95 |
| XS | 40 x 30 cm | £69.95 | £5.95 | £22.95 |
| XS | 45 x 30 cm | £69.95 | £5.95 | £22.95 |
| S | 60 x 40 cm | £74.95 | £7.95 | £15.95 |
| S | 60 x 45 cm | £74.95 | £7.95 | £15.95 |
| S | 75 x 50 cm | £74.95 | £7.95 | £15.95 |
| M | 80 x 60 cm | £74.95 | £7.95 | £15.95 |
| M | 90 x 60 cm | £79.95 | £9.95 | £19.95 |
| M | 100 x 75 cm | £79.95 | £9.95 | £19.95 |
| M | 105 x 70 cm | £95.95 | £12.95 | £19.95 |
| L | 120 x 80 cm | £95.95 | £12.95 | £19.95 |
| L | 120 x 90 cm | £95.95 | £12.95 | £19.95 |
Prices incl. VAT.
Delivery discount available on multiple purchases (same size).
All prices and delivery times
Couple
Harry
Steel 20
Image
Components
4-part set comprising
2 mounts & 2 spacers
4-part set incl. screws
15 mm diameter
4-part set incl. screws
20 mm diameter
Weight capacity
Holds up to 6 kg
approx. 120 x 90 cm
Suitable for all photo sizes
Suitable for all photo sizes
Impression
"Floating" effect
High-quality stainless steel
High-quality stainless steel fixture
(AISI304)
Suitable for
Alu-Dibond
Other
Assembly instructions incl.
Assembly instructions incl.
Drilling & assembly instructions excl.
Price
£12.95
£23.80
£18.95
---
---
This might also interest you