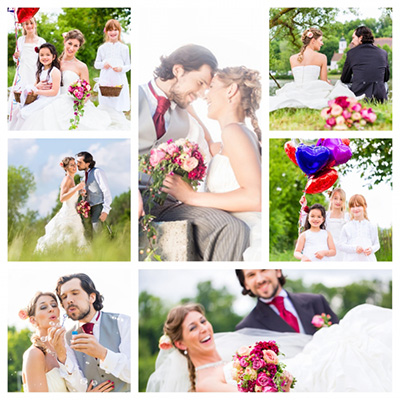 Template with 7 photos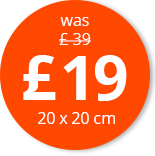 Over 120 templates available
75 year colour guarantee
5 fonts to choose from
Create collage
Ready for dispatch:
Monday 28 May

Photo collage on acrylic glass in 3 steps
1. Upload photo

2. Create collage

3. Order collage

---
Further information
Collage info
Prices
Delivery times
Hanging kits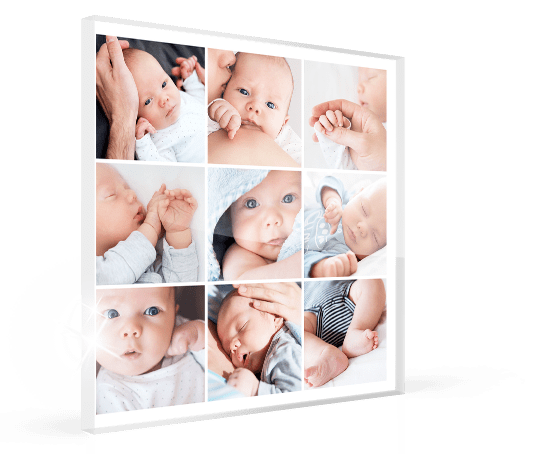 Photo collage information
Over 120 collage templates
Use between 3 – 29 photos
Themed templates: love, party…
Add your own text
High-gloss surface finish
---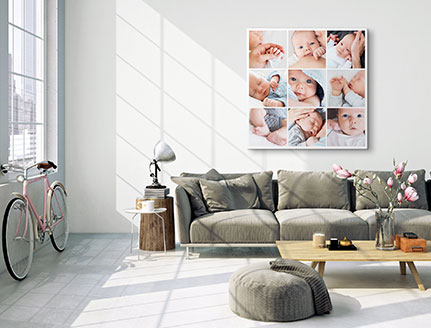 Detailed information
Use different fonts, colours and sizes for your text
Choose from over 120 collage templates and upload between 3 – 29 photos
Printed on real acrylic glass with a high-gloss finish
Printed with modern Canon™ technology directly onto acrylic glass – including white print
"Floating" hanging effect – 3 different mounting systems to choose from
Premium ⅓ in (8 mm) acrylic glass with diamond-cut edges
We offer a choice of 9 collage sizes.
Choice of glass thickness: ⅛ in (3 mm) / ⅓ in (8 mm)
Size
RRP
Price
Choose size

XS

8 x 8 in

(20 x 20 cm)

£ 19.00

£ 49.00

select

XS

16 x 12 in

(40 x 30 cm)

£ 49.00

£ 89.00

select

XS

16 x 16 in

(40 x 40 cm)

£ 59.00

£ 119.00

select

S

24 x 18 in

(60 x 45 cm)

£ 79.00

£ 149.00

select

S

24 x 24 in

(60 x 60 cm)

£ 89.00

£ 169.00

select

M

32 x 24 in

(80 x 60 cm)

£ 89.00

£ 189.00

select

M

32 x 32 in

(80 x 80 cm)

£ 109.00

£ 199.00

select

L

40 x 40 in

(100 x 100 cm)

£ 139.00

£ 289.00

select

L

48 x 36 in

(120 x 90 cm)

£ 149.00

£ 299.00

select
Delivery discount on multiple purchases (same size)
All prices incl. VAT.
Here's how quickly your collage will be delivered:
TODAYOrder
now

Next Day*deliveryguaranteed

EXPRESSdeliveryexpected

STANDARDdeliveryexpected

Sat
Sun
Mon
Tue
Wed
Thurs
Fri
Sat
Sun
Mon
26
May.
27
May.
28
May.
29
May.
30
May.
31
May.
01
Jun.
02
Jun.
03
Jun.
04
Jun.
* Next Day delivery only available if ordered before midday
Our delivery companies:

---
Delivered to
Size
Next Day Upgrade
Express Upgrade
Delivery

XS

8 x 8 in

(20 x 20 cm)

£ 89.95
£ 5.95
£ 12.95

XS

16 x 12 in

(40 x 30 cm)

£ 89.95
£ 5.95
£ 12.95

XS

16 x 16 in

(40 x 40 cm)

£ 89.95
£ 5.95
£ 12.95

S

24 x 18 in

(60 x 45 cm)

£ 89.95
£ 7.95
£ 15.95

S

24 x 24 in

(60 x 60 cm)

£ 89.95
£ 7.95
£ 15.95

M

32 x 24 in

(80 x 60 cm)

£ 89.95
£ 7.95
£ 15.95

M

32 x 32 in

(80 x 80 cm)

£ 139.95
£ 9.95
£ 19.95

L

40 x 40 in

(100 x 100 cm)

£ 139.95
£ 12.95
£ 19.95

L

48 x 36 in

(120 x 90 cm)

£ 139.95
£ 12.95
£ 19.95
Delivery discount on multiple purchases (same size).
All prices incl. VAT.
Ghost
Couple
Steel 20
Image
Components
4-part set incl. screws
4-part set comprising
2 mounts & 2 spacers
4-part set incl. screws
8 in diameter
(20 mm diameter)
Weight capacity
Holds up to 0.6 kg
approx. 24 x 16 in
(approx. 60 x 40 cm)
Holds up to 0.6 kg
approx. 48 x 36 in
(approx. 120 x 90 cm)
Suitable for all photo sizes
Impression
"Floating" effect
"Floating" effect
High-quality stainless steel fixture
(AISI304)
Suitable for
Alu-Dibond
Other
Assembly instructions incl.
Assembly instructions incl.
Drilling & assembly instructions incl.
Price
£12.95
£10.95
£19.95
---
Photo collage – print photos on acrylic glass
The perfect idea for arranging several photos in one wall piece is the glass photo collage. With over 120 different templates, you have the option of designing your collage completely individually. We also provide motif templates for your own collage print creation. You can decide for yourself whether you would prefer a photo collage comprised of a few pictures (wedding memories, for example) or rather a large holiday collage with many different impressions.
The photo collage editor will help you create
We have developed a collage editor to help you easily design your collage. With this tool, you can easily customise your acrylic photo collage. Just make sure that your photos are in JPEG format and then you can get started!
The editor always displays the current status of your collage through every stage of the creative process. This allows you to make changes as you go along. In order to create your collage print, you can upload an unlimited number of pictures to our website. Unfortunately, it is not possible to save or store your images there.
Create a photo collage on acrylic glass in five steps:
Ideally, you will start by selecting the images you want to use on your own computer. Choose your favourite photos and place them in a designated folder. You can then easily upload the photos from there.
Choose the design you want from our 120 design templates. There are various criteria for selection. You can choose your favourite template based on how many images you have selected and whether your photo collage should have a preset layout theme. Use the filters in the collage selection to find a suitable template for your acrylic print collage even quicker.
Then you upload your photos into our collage editor. Remember that the size of your photo files will affect the amount of time needed to transfer them. The larger the file size, the longer transfer may take.
When transfer is completed and all of your photos are in the collage editor, you can simply drag your pictures into the desired position. You can either design your acrylic photo collage by hand or you can use the practical "auto-fill" function. One click and your pictures are automatically arranged in random order in your collage. This is an excellent way of getting a first impression of your completed collage. You can then manually move individual photos into position.
Now you're done and you have created your own individual photo collage. You can now have it printed on to acrylic glass. The collage you have designed will determine the format of the acrylic glass. However, you can decide on the size you want during the ordering process. Provide the usual ordering details and your photo collage on glass order is complete!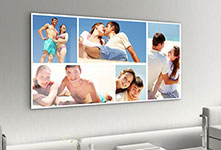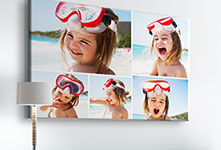 The right collage for your acrylic glass print
Basically, you can of course design your photo collage as you want. Our 120 templates for collages of 3 to 29 photos make it completely easy to have it printed on acrylic glass.
However, a few tips well help you get the best results possible: If you want to depict lots of people, it is advisable to choose a template with many photos. We offer templates that have space for up to 29 photos. To ensure that the photos are easy to see when printed, you should go for larger photos on acrylic glass.
Otherwise: using fewer images will allow your photos to appear more balanced and harmonious. Have the courage to go minimalist – we have fantastic collage templates for as few as three photos.
Glass photo collage: Moments of life
The most beautiful moments in life are often the big events such as birthdays, starting school, weddings or holidays. These are exactly the photos that shouldn't be allowed to lie disregarded in a drawer, but should rather bring a smile to our faces every day as a photo collage. For this, we provide a wide selection of templates for your collage. Whether will an animal theme, as a calendar or even for special occasions such as Mothers' Day, we always have a suitable collage template for you.
Photo collage with text
For the personal touch on your collage on acrylic glass, you shouldn't forget some text. It may be a date as a little reminder or a loving greeting – you can decide for yourself. Simply choose the font, the colour and the size of the text and type it directly into the editor. The length of the text is variable and will depend on the template selected.