Find sizes currently on special offer. Get your acrylic print even cheaper.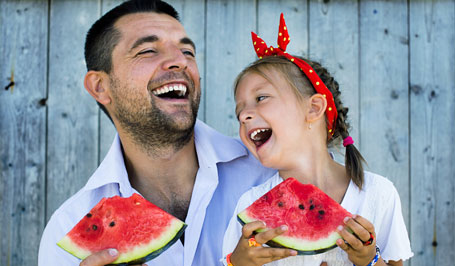 ---
Cheap acrylic prints on special offer
Take advantage of our latest offers to get discounts on your acrylic print. Overview of sizes on offer:
Special offers
| | Size | RRP | Price | Choose size | |
| --- | --- | --- | --- | --- | --- |
Delivery discount on multiple purchases (same size)
All sizes and prices
Prices incl. VAT.
---
Acrylic photo printing offers
Photos on acrylic glass have been particularly popular in recent years. Its high-gloss surface fits in well with modern interior design, where shiny finishes are absolutely on trend. The acrylic glass photo is therefore an attractive option to highlight your own photo in a spectacular way.
Many have already tried photo printing on to acrylic glass. However, as good as the finished product looks, it is also a high-priced medium. That makes our special offers particularly interesting: We regularly offer the most popular acrylic print sizes at reduced prices. You'll find the best-selling sizes here at cheap prices. And above all: you'll get real brand quality at a discount.
Acrylic prints 90 x 60 cm and 60 x 40 cm
The popular acrylic glass sizes 90 x 60 cm and 60 x 40 cm are the best sellers. So we have made it our goal to offer these at special prices at regular intervals. This way, the customer has the opportunity to test the popular sizes for themselves. We regularly have these classic acrylic glass photo sizes on offer: 20 x 20 cm, 60 x 60 cm, 60 x 40 cm and 90 x 60 cm.
Print photos cheaply onto acrylic glass
However, you can also save money without special offers when you heed some tips: Photos on glass are manufactured using a direct printing process. In this process, the photo is printed onto a pre-cut glass sheet. If you can stick to standard sizes when selecting your format, you can save a lot of money. We do offer custom formats but these are considerably more expensive. For example, the special format 105 x 70 cm is £20 more expensive yet considerably smaller than the standard format 120 x 80 cm. If you are flexible with the size, you can have your photo printed on acrylic glass at quite a cheap price.
Acrylic glass in classic photo format
The first digital cameras had an image aspect ration of 4:3. For this reason, sizes such as 80 x 60 cm became established in wall art ranges. However, tastes change and the 3:2 format has long been popular again. The new and old image format (for this was the standard before the digital age) is back in style. And rightly so: The 3:2 format corresponds to the "Golden Ratio" and is significantly more attractive. We regularly have the sizes 60 x 40 cm and 90 x 60 cm in this format on sale.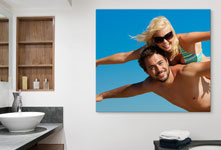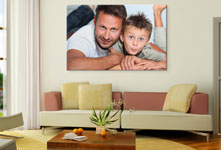 Square glass photo print deals
The square photo format is ordered less often on acrylic glass. This is a pity because the square format is particularly appreciated by professional photographers. The square format enjoys preferential status particularly in art photography. For this reason, we regularly offer square acrylic prints at discount prices. The popular sizes 40 x 40 cm and 80 x 80 cm are frequently on offer.
With the 3 mm version, you can really make savings
We offer acrylic glass photos in two thicknesses: 3 mm and 8 mm glass. The high-quality 8 mm variant is also finished with diamond-cut glass edges. This involves a significantly higher price. If you really love the high-gloss finish and are anyway planning a smaller acrylic photo print, you'll be well served with the 3 mm version. If you are planning a picture size of 80 x 80 cm or larger, on the other hand, we recommend the 8 mm premium version. This will mean that your picture is sturdier. XXL sizes can easily cost upwards of £500 in the 8 mm variant, especially when it involves a custom format.