Brushed metal prints in 3 steps
1. Upload photo

2. Select size

3. Order metal print

---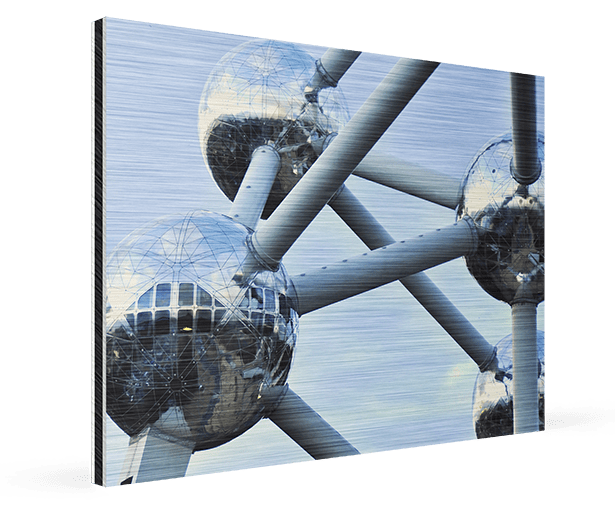 Brushed Metal:
Print with Special effect
A print on brushed metal will make your photo shine like a star. Its metallic shimmer will your photo a stunning saturation.
---
Ready to ship:
Monday, 6 Dec 2021
---
Two metal print surfaces compared
White & matte metal with a semi-glossy surface is perfect for Fine-Art photography.
Printing on Alu-Dibond BUTLERFINISH® your photos will have a metallic look. The white areas of your image won't be printed but will shine from far away.
---
---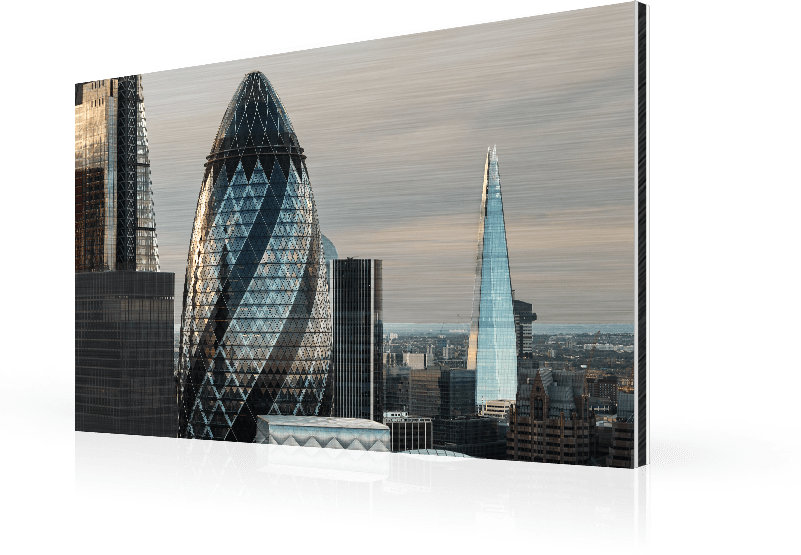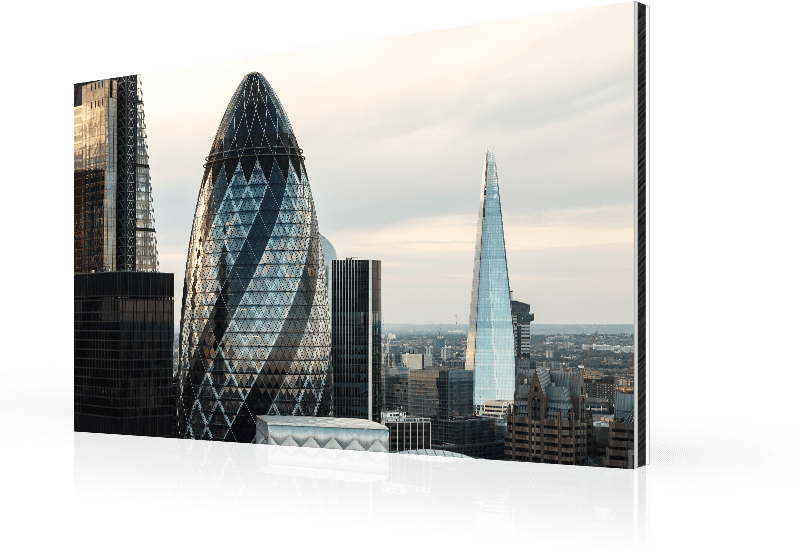 ---
Did you know? Metal prints with a brushed effect have greater colour saturation
---
Alu-Dibond BUTLERFINISH® sizes


40 x 30 cm


60 x 40 cm


80 x 60 cm


120 x 90 cm


160 x 120 cm
---
---
Brushed metal prints – special effects for expressive images
Brushed metal posters: print like a professional
Alu-Dibond is an exceptionally popular medium for printing amongst professional photographers in particular. But, of course, you can also take advantage of the many benefits of this unbelievably light and sturdy metal as a clever hobby photographer.
Brushed metal photos impress with their linear-textured, shiny, metallic surface. In contrast to the white/semi-matte variant of the metal print, the processing of the material in this case leads to impressive, intense effects. This means, however, that your photo prints may deviate a little in terms of colour rendition from the original version. This would be a real pity because it can detract from the special effects of this photo medium.
Here's how to avoid the mistake: simply increase the brightness of your image file by 10 points before you send it to us. This way you can be sure that your print won't be too dark in the end.
What motifs are best suited for a print on brushed metal?
The metallic, textured surface of the brushed Alu-Dibond makes the light-coloured areas of the photo particularly luminous. It is extraordinarily good for black & white photography or other motifs with a strong light/dark contrast. Imagine a dramatic portrait or an elegant fashion photo in this look, for example! You can also achieve amazing, outstanding expressiveness with metal prints on brushed aluminium in the case of technical or architectural motifs, however.
If you like experimenting with urban photography, for example, you can give it a go with a night shot. Here, the many bright points of light on the buildings and cars as an metal photo print will practically shine right out of the image!
Your photos printed on metallic sheet: radiant highlights for extra-special images
Having your photo printed on metal is always a great idea. But you'll see the greatest benefit of this brushed variant if you want to really show off a photo in a special way. Not every motif is suitable for this sort of strong, dramatic look, however. If you want to set off a special picture easily and effectively without going through the tedious processes of editing and tweaking first, a brushed metal print is a beautiful and simple solution.
Just remember: We need a photo file with a resolution of at least 150 DPI for small formats and up to 300 DPI for large formats. After all, especially when you want to create an impressive large-format metal print or an original photo gift, you'll want to be sure that the result will be particularly high-quality and elegant.
---
Good to know
What does brushed metal mean?

The Alu-Dibond sheet has a metallic (silver) surface as the material has a special texture. "Brushed" means, that a fine, linear structure is visible. This kind of processing is called BUTLERFINISH®. The material is also be used by the automobile industry.

Learn more about Alu-Dibond

Can you see the brushed texture after printing?

Yes, after printing directly on the metal carrier you still can perfectly see the brushed texture. The special metallic shimmer is visible on both printed and non-printed areas of your photo.

What happens with white areas in my photo?

There will be no white printed on the brushed Alu-Dibond sheet. Only by this method the typical metallic effect can be created.

How to hang a metal print?

There are various mountings available: Self adhesive hangers like COUPLE are suitable for small & medium-sized prints. They will give the print a "floating" effect. For very large metal prints (> 120 x 90 cm) we recommend the STEEL20 or HARRY hangers for fixing your print safely onto the wall.

Complete how-to on hanging metal prints
---
---
Customer reviews
Tracy Kirrage
Review in Faversham
Product: Metal print Verified purchase
Very disappointed with the end result, wouldn't use this company again.
Anthony Winfield
Review in Stafford
Product: Metal print Verified purchase
Quality print production. Top quality product.
---
Peter Furner
Review in West Sussex
Product: Metal print Verified purchase
The reproduction of my photo on acrylic glass is stunning. The colours are sharp and the picture quality is fantastic. An excellent product and good value for money. It arrived quickly from Germany and was very well packaged too. A very happy customer!
Bryan Tunstall
Review in COLWYN BAY
Product: Metal print Verified purchase
I had a few issues with items damaged in transit and customer service was excellent! Great product and happy customer!
---
---
---
Further information
Metal Print print info
Prices
Delivery times
Mounting
Alu-Dibond information
Original Alu-Dibond from Thyssen Krupp©
Modern Océ – Canon™ print techology
200 years' fade resistance (indirect light)
White, semi-gloss or metallic, brushed surface finish
---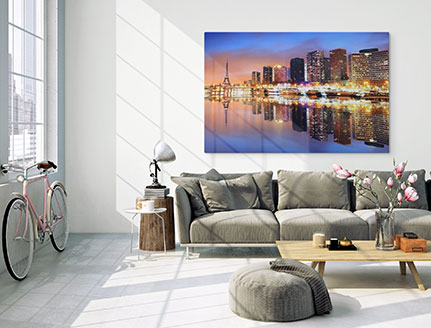 Detailed information
Very sturdy Alu-Dibond© compound structure
Alu-Dibond© available in a metallic brushed and white, semi-gloss surface finish
Printed directly onto Alu-Dibond© with modern Canon™ print technology including white print
Aluminium printing also available in XXL sizes up to 2 metres as custom sizes
Choose from 3 mounting systems – incl. "floating" effect mount
Your metal print is available in the following finishes: white semi-gloss / metallic brushed
Size
RRP
Price
Choose size

XS

20 x 20 cm

£19.00

£19.00

£19.00

select

XS

30 x 20 cm

£25.00

£25.00

select

XS

40 x 30 cm

£39.00

£30.00

£30.00

select

XS

40 x 40 cm

£35.00

£35.00

select

S

60 x 40 cm

£69.00

£45.00

£45.00

select

S

60 x 45 cm

£50.00

£50.00

select

S

60 x 60 cm

£60.00

£60.00

select

M

80 x 60 cm

£79.00

£65.00

£65.00

select

M

80 x 80 cm

£80.00

£80.00

select

M

90 x 60 cm

£70.00

£70.00

select

L

100 x 100 cm

£100.00

£100.00

select

L

120 x 80 cm

£129.00

£95.00

£95.00

select

L

120 x 90 cm

£129.00

£100.00

£100.00

select
Delivery discount on multiple purchases (same size)
Prices incl. VAT.
When will your Metal print be delivered?
Choose a size
Destination
TODAYOrder
now

Next Day*
EXPRESSdelivery
guaranteed

PRIO**delivery
expected

Sat
Sun
Mon
Tue
Wed
Thurs
Fri
Sat
Sun
Mon
04
Dec.
05
Dec.
06
Dec.
07
Dec.
08
Dec.
09
Dec.
10
Dec.
11
Dec.
12
Dec.
13
Dec.
Order weekdays until 11 a.m.:
* Guaranteed delivery next working day
** Prioritised production and standard delivery
Our delivery companies:

---
Destination
| | Size | Next Day EXPRESS Upgrade | PRIO Upgrade | Delivery |
| --- | --- | --- | --- | --- |
| XS | 30 x 20 cm | £69.95 | £5.95 | £22.95 |
| XS | 40 x 30 cm | £69.95 | £5.95 | £22.95 |
| XS | 45 x 30 cm | £69.95 | £5.95 | £22.95 |
| S | 60 x 40 cm | £74.95 | £7.95 | £15.95 |
| S | 60 x 45 cm | £74.95 | £7.95 | £15.95 |
| S | 75 x 50 cm | £74.95 | £7.95 | £15.95 |
| M | 80 x 60 cm | £74.95 | £7.95 | £15.95 |
| M | 90 x 60 cm | £79.95 | £9.95 | £19.95 |
| M | 100 x 75 cm | £95.95 | £12.95 | £19.95 |
| M | 105 x 70 cm | £95.95 | £12.95 | £19.95 |
| L | 120 x 80 cm | £95.95 | £12.95 | £19.95 |
| L | 120 x 90 cm | £95.95 | £12.95 | £19.95 |
Prices incl. VAT.
Delivery discount available on multiple purchases (same size).
All prices and delivery times
Couple
Harry
Steel 20
Image
Components
4-part set comprising
2 mounts & 2 spacers
4-part set incl. screws
15 mm diameter
4-part set incl. screws
20 mm diameter
Weight capacity
Holds up to 6 kg
approx. 120 x 90 cm
Suitable for all photo sizes
Suitable for all photo sizes
Impression
"Floating" effect
High-quality stainless steel
High-quality stainless steel fixture
(AISI304)
Suitable for
Alu-Dibond
Other
Assembly instructions incl.
Assembly instructions incl.
Drilling & assembly instructions excl.
Price
£12.95
£23.80
£18.95
---
---
This might also interest you