The aluminuim photo medium for photo professionals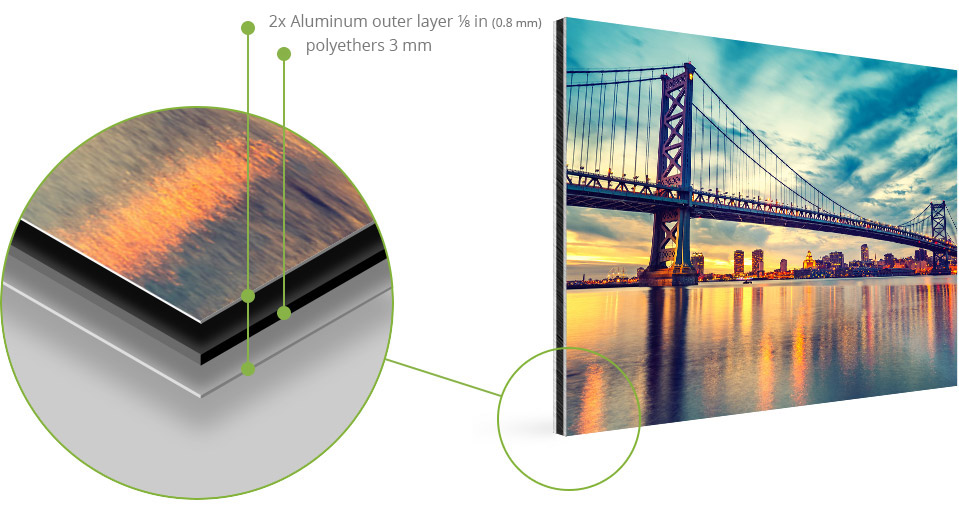 Alu-Dibond is a photo medium made from aluminum
Made up of three layers – 2 aluminium layers + 1 polyethylene – the compound material is therefore especially stable and long-lasting. Many photos for photo exhibitions are printed on Alu-Dibond as it is highly rated by photography professionals.
Photos printed on Alu-Dibond can be directly mounted on the wall, also with a "floating" effect. The mounting can be applied directly on the back of the photo. This saves money.
Advantages of Alu-Dibond
Numerous advantages favour the use of photo printing on Alu-Dibond:
Top quality photo reproduction
Can be mounted "floating" on the wall
No extra photo frame necessary
Light & stable – made from real aluminium
The choice of photo professionals
---
Why are exhibition pieces printed on Alu-Dibond?
Aluminium is the perfect medium for high-quality photography. The material provides excellent printing results and can be hung without additional costs (such as framing, for example).
This is ideal for artists: The image is rendered perfectly. The material is durable in the long term and no further costs are incurred (as opposed to other mediums).
Alu-Dibond – photos in gallery quality
Even though Alu-Dibond is a superstar amongst image media today, the material was not originally designed as a material for photo printing.
At the end of the 1960s when the first aluminium bonded panels were conceived, direct photo printing in an acceptable quality wasn't possible. Alu-Dibond was originally designed for facade construction.
It was first in the 1990s that Alu-Dibond had been developed to the stage where it was interesting for the advertising industry.
Just at the right time: For in the new millennium direct printing technology in sheet had also reached a level of quality that would allow photo reproduction in the fine art sector. Since then, a major photo exhibition anywhere in the world without Alu-Dibond is unthinkable.
Photos on Alu-Dibond – the possibilities
Variants
White, semi-matte
Metallic, brushed
Standard format
Smallest size
20 x 20 cm from £19.00
Largest size
120 x 90 cm from £129.00
Custom formats
Freely selectable between 20 x 20 cm - 240 x 120 cm image size
Data file requirements
Minimum 150 DPI, JPG or PNG in RGB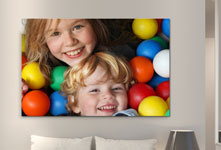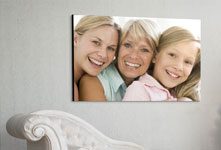 Alu-Dibond technical data
Material composition
Aluminium (Al), polyethylene
(LDPE 0.92 g / cm3)
Material thickness
3 mm
Weight
3.8 Kg/m2
Temperature resistance
- 50 °C - + 80°C
Water absorption
DIN 43495
0.01 %
Fire class rating
B2 in accordance with DINv4102-1
Alu-Dibond
©
is a material from 3A composites Ltd.
Alu-Dibond as an image medium
Alu-Dibond is a high-quality, dimensionally stable image medium which is ideal for showing off professional photography exquisitely and durably. We offer photos on Alu-Dibond in two variants:
1. Alu-Dibond white, semi-matte: The even, smooth surface enables direct printing in very high resolutions. The semi-matte medium thus presents the image in a low-key yet assertive way.
2. Alu-Dibond metallic, brushed (butlerfinish©): The surface in brushed aluminium impresses with a fine surface structure and metallic lustre. The result is a typical and charismatic structure on the image.
You decide whether we print your photo on the semi-matte surface or on brushed aluminium.
Both variants will impress with their refined look, their quality and the durability of the material. The material is 3 mm thick in both variants. The finish in the brushed aluminium version will also fascinate through its fine surface structure and a metallic sheen that you will know from metallic photo paper.