What's the difference between Acrylic (Perspex) and real glass?
For printing the higher translucency and the lower weight are essential.
---
Acrylic Glass
(Perspex)
Mineral Glass
(Regular Glass)
---
Printing on Acrylic – Photography meets brilliance: Acrylic Glass or Perspex outclasses normal glass in many ways. Due to the higher translucency the colours are even more brilliant. That's why the printing industry uses exclusively acrylic glass.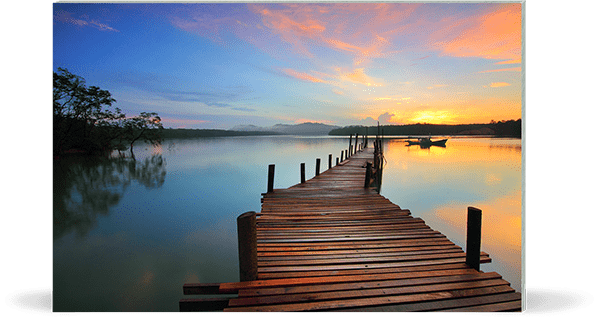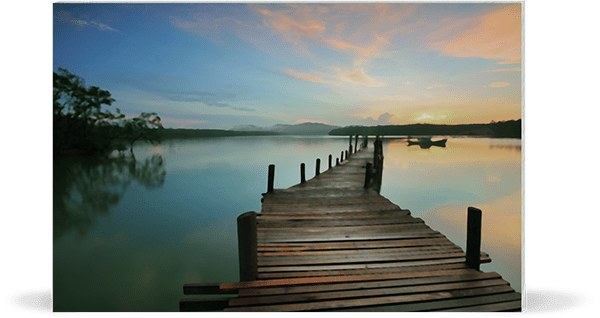 ---
Acrylic Glass FAQs
What exactly is Acrylic Glass?

Acrylic glass is a so-called technical glass. It is often used in the aircraft and automobile industry due to its awesome qualities such as light weight, high flexibility and shatter resistance.

What about cleaning?

Just use a soft lint-free cotton cloth or duster - but avoid to much pressure. That's it.

Can Acrylic Glass be illuminated?

How heavy can Acrylic Glass be?

Why not use normal glass?

Compared to normal glass Perspex is more flexible and sturdy and much lighter than typical mineral glass. Moreover, its higher translucency makes it a perfect carrier for photo prints.
---
Facts about Acrylic Glass
Acrylic - the better glass
Made of transparent plastic, acrylic glass unites both fine and robust qualities and thus offers the perfect basis for long-lasting photo prints. Acrylic glass can be used simply and effectively both indoors and in outside areas. What you have to know about acrylic glass, printing on it and hanging your acrylic prints.
Acrylic glass vs real glass: a comparison of the characteristics of the materials
Acrylic glass has been manufactured from transparent plastic since the end of the 1920s. Many will know the material under the names "plexiglass" or "perspex", although these are simply the best-known brand names for acrylic glass from the company Evonik Röhm GmbH.
Since being introduced on to the market, acrylic glass has enjoyed increasing popularity, but not only in connection with photo prints. Here are five reasons as to why acrylic glass is so popular:
Weight: Acrylic glass weighs only around half as much as real glass, which makes not only transportation but also hanging easier.
Break-resistance: Thanks to its material composition, acrylic glass is considerably more resistant against impact and vibration. The surface, too, is comparatively scratch-resistant. If it does suffer damage, a special paste is available which you can use to improve the appearance of the damage yourself. Because of the shatter-resistant qualities of acrylic glass, this material is more suitable for transportation.
Translucency: It sounds odd but not all transparency is equal. Acrylic glass allows a little more light to penetrate the surface than conventional glass. This means that colours in particular are reproduced with extreme brilliance in acrylic prints. At the same time, this synthetic glass absorbs UV rays so that the image and the picture quality doesn't suffer under direct sunlight even after many years.
Weather-resistance: Damp and wet conditions, sun or wind – acrylic glass stands up to all sorts of environmental influences. This means that your acrylic photo print is also suitable for outdoor areas or in damp rooms such as the bathroom. Find out more about the various areas of application in the text below.
Customisation: The material's properties mean that acrylic glass is much easier to cut and drill into than real glass – perfect conditions for allowing the customisation of your photos on glass.
By the way: Due to the qualities mentioned above, acrylic glass is not only the perfect basis for a photo print but can also be found in shower doors or space dividers, contact lenses and glasses lenses, in the construction of medical prostheses and in the household in the form of salad bowls or drinking glasses. This synthetic glass really is an all-rounder.
Your photo on acrylic glass: you have these options
Your design options when you order acrylic prints from us are as flexible as acrylic glass itself. In addition to the standard formats, unusual and customised formats such as panoramic acrylic prints are also possible. What you have to think about when it comes to your acrylic prints:
Material thickness: We offer two different thicknesses of glass for your acrylic prints. For smaller formats of up to a metre in length or breadth, the 3 mm variant is usually sufficient. Larger formats of more than 1 metre in length/breadth should be printed on 8 mm acrylic glass, since this gives your acrylic print more stability and resistance against breakage.
Your photo file: Submit as large an image file as possible with a high resolution for the best results. The more pixels we have to work with, the larger we can print your photos on acrylic. You should also note that the file should be saved were possible with the printing colour spectrum CMYK.
Hanging: Whereas smaller acrylic glass photos are so light that you can use an invisible hanging system to mount them on the wall, larger acrylic prints on 8 mm glass, for example, can quickly become very heavy. In this case, an adhesive hanging system won't be enough and you should go for a drilled-in hanging system. The acrylic glass can be processed very easily in this way and the holes for the hanging system can be drilled simply and safely.
Additional tips for the perfect motif: Acrylic glass impresses especially with an excellent depth-effect and intensive colour reproduction, so photos with strong colours are often the most effective.
An eye-catcher everywhere: finding the best place for your acrylic prints
As mentioned above, acrylic glass is a true all-round talent. As a photo print, you can use acrylic glass but indoors and outdoors, since unlike other photo prints, no paper is used in the manufacturing process that can get damp or peel away. This means that you can also use your photo print on acrylic as a decorative highlight also in the bathroom or kitchen. Water marks from showering or other dirt can simply be wiped away with a damp cloth or with a little warm, soapy water where necessary.
What you should avoid: Just be careful about hot fats – these can damage the surface of your print. Directly above the hob in the kitchen is just about the only place in the house unsuitable for an acrylic photo print.
You can even use acrylic glass in outdoor areas such as for an elegant doorbell panel or nameplate, or as a decorative element in the garden. Keep in mind, however, that especially large formats offer more surface area for wind and rain to attack your print – in very exposed areas, a photo print on metal is a more durable alternative.
An atmospheric interior design tip: Thanks to its translucency, acrylic glass is perfect for targeted lighting. You can create highlights using a string of fairy lights, for example. This can be especially impressive behind a photo of the night skyline, where individual windows or light sources in the photo are illuminated using the lamps of the string of lights.