Glass photo prints with high-resolution colours
The last few years have seen major developments in printing technology. Thanks to the production technology used by acrylic-glass-photo.co.uk, it is now possible to directly print glass photos with a resolution of up to 1400 dpi. Until recently, acrylic glass photos were produced by simply sticking a paper print onto the back of an acrylic glass sheet. Even today companies are still offering this product despite all its well-known flaws: the paper fades, turns yellow and eventually peels off.
By printing directly on to the back of the acrylic glass, your photo becomes inseparable from the glass. Your acrylic print will not be unnecessarily altered by the yellowing of paper, and will not peel off due to the dissolving of the adhesive. Your quality-produced acrylic photo print will remain as brilliant and luminous as it was on the first day for many years to come.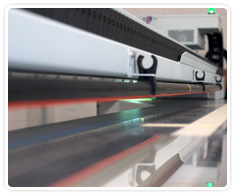 The revolutionary printing features of photos by acrylic-glass-photo.co.uk offer a perfect product that is not just impressive and long-lasting, but will also bring joy for many years. The plexiglass protects the high resolution print and brilliant colours. See for yourself and try our brilliant acrylic glass photo printing today.
---
Requirements
Printing on acrylic glass today achieves brilliant results. However the print file must also be suitable.
Information on photo resolution
Is it real glass?
We print your photo onto acrylic glass, as this material has many advantages compared with normal glass.
Compare with normal glass
Cleaning and caring
Photos on acrylic glass enchant with their high gloss surface finish. This surface is easily cleaned and maintained.