Images printed on metal in 3 steps
1. Upload photo

2. Select size

3. Order metal print

---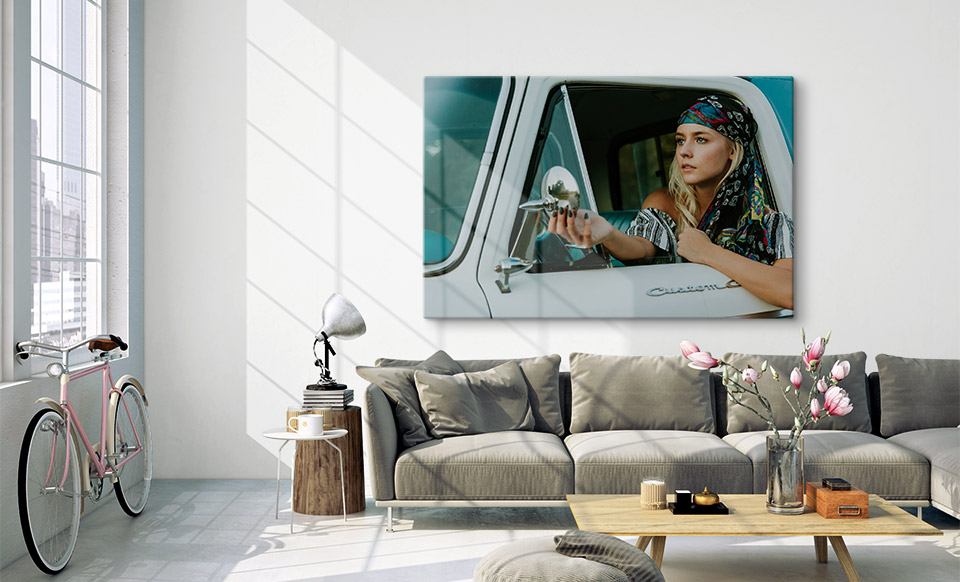 ---
---
Images on metal
Having your own images printed on metal is very easy: Assuming you have a picture with appropriate resolution, the images on metal can be ordered online. The image is then printed on to Alu-Dibond in a direct printing process.
Images on metal are much more successful when printed directly. The quality of the printed images will impress with excellent colour reproduction and stunning contrast. This makes it a favourite of every photographer and images printed on metal also make a fabulous gift idea if you are looking for an unusual present.
Tip: Images printed on metal are waterproof and can also be hung in the bathroom, for example.
---
---
---
Did you know? Your images on metal are available in more than 50 sizes and formats.
Print image on metal
We offer images on metal in two different variants. In our standard variant, we print on to white Alu-Dibond: the perfect medium for excellent printing results. The aluminium surface is ideal for images printed on metal.
In addition, we also offer the brushed aluminium print variant with a metallic look. Here, the white portions of the original image will be represented by the metallic surface in the finished print.
No matter which variant you choose, when you are ordering images printed on metal, you should remember that the resolution of the photo is crucial to the printing result. This rule of thumb applies: The greater the resolution of the uploaded photo, the better the images on metal will look.
---
Your images print on metal in different sizes


40 x 30 cm


60 x 40 cm


80 x 60 cm


120 x 90 cm


160 x 120 cm
---
---
Images printed on metal
Images on metal require a special hanging system. We have various hanging systems available for images printed on metal to ensure that your photo can be simply but securely attached to the wall. In one variant, your custom metal print will have four holes bored in it to allow it do be anchored firmly to the wall using metal pins. This hanging system is also suitable for outside areas.
The second method is to provide the images on metal with a free floating effect on the wall. For this, the hanging system is glued on to the reverse of your metal print. Both hanging systems can be ordered together with your images on metal.
---
Further information
Alu-Dibond print info
Prices
Delivery times
Mounting
Alu-Dibond information
Original Alu-Dibond from Thyssen Krupp©
Modern Océ – Canon™ print techology
200 years' fade resistance (indirect light)
White, semi-gloss or metallic, brushed surface finish
---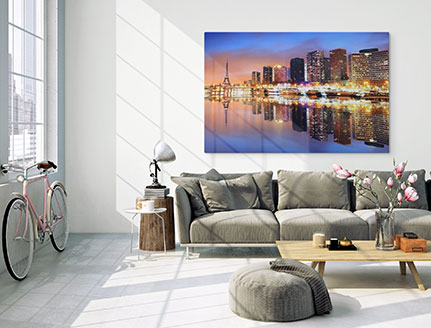 Detailed information
Very sturdy Alu-Dibond© compound structure – 2 choices of frame thickness
Alu-Dibond© available in a metallic brushed and white, semi-gloss surface finish
Printed directly onto Alu-Dibond© with modern Canon™ print technology including white print
Aluminum printing also available in XXL sizes up to 80 in (2 metres) as custom sizes
Choose from 3 mounting systems – incl. "floating" effect mount
Your metal print is available in the following finishes: white semi-gloss / metallic brushed
Size
RRP
Price
Choose size

XS

20 x 20 cm

£19.00

£19.00

£19.00

select

XS

30 x 20 cm

£25.00

£25.00

select

XS

40 x 30 cm

£39.00

£30.00

£30.00

select

XS

40 x 40 cm

£35.00

£35.00

select

S

60 x 40 cm

£69.00

£45.00

£45.00

select

S

60 x 45 cm

£50.00

£50.00

select

S

60 x 60 cm

£60.00

£60.00

select

M

80 x 60 cm

£79.00

£65.00

£65.00

select

M

80 x 80 cm

£80.00

£80.00

select

M

90 x 60 cm

£70.00

£70.00

select

L

100 x 100 cm

£100.00

£100.00

select

L

120 x 80 cm

£129.00

£95.00

£95.00

select

L

120 x 90 cm

£129.00

£100.00

£100.00

select
Delivery discount on multiple purchases (same size)
Prices incl. VAT.
When will your Alu-Dibond print be delivered?
Choose a size
Destination
TODAYOrder
now

Next Day*deliveryguaranteed

EXPRESSdeliveryexpected

STANDARDdeliveryexpected

Tue
Wed
Thurs
Fri
Sat
Sun
Mon
Tue
Wed
Thurs
20
Aug.
21
Aug.
22
Aug.
23
Aug.
24
Aug.
25
Aug.
26
Aug.
27
Aug.
28
Aug.
29
Aug.
* Next Day delivery only available if ordered before midday
Our delivery companies:


---
Destination
| | Size | Next Day Upgrade | Express Upgrade | Delivery |
| --- | --- | --- | --- | --- |
| XS | 20 x 20 cm | £89.95 | £5.95 | £12.95 |
| XS | 30 x 20 cm | £89.95 | £5.95 | £12.95 |
| XS | 40 x 30 cm | £89.95 | £5.95 | £12.95 |
| XS | 40 x 40 cm | £89.95 | £5.95 | £12.95 |
| S | 60 x 40 cm | £89.95 | £7.95 | £15.95 |
| S | 60 x 45 cm | £89.95 | £7.95 | £15.95 |
| S | 60 x 60 cm | £89.95 | £7.95 | £15.95 |
| M | 80 x 60 cm | £89.95 | £7.95 | £15.95 |
| M | 80 x 80 cm | £139.95 | £9.95 | £19.95 |
| M | 90 x 60 cm | £139.95 | £9.95 | £19.95 |
| L | 100 x 100 cm | £139.95 | £12.95 | £19.95 |
| L | 120 x 80 cm | £139.95 | £12.95 | £19.95 |
| L | 120 x 90 cm | £139.95 | £12.95 | £19.95 |
Prices incl. VAT.
Delivery discount available on multiple purchases (same size).
All prices and delivery times
Ghost
Couple
Steel 20
Image
Components
4-part set incl. screws
4-part set comprising
2 mounts & 2 spacers
4-part set incl. screws
0.8 in diameter
(20 mm diameter)
Weight capacity
Holds up to 0.6 kg
approx. 24 x 16 in
(approx. 60 x 40 cm)
Holds up to 0.6 kg
approx. 48 x 36 in
(approx. 120 x 90 cm)
Suitable for all photo sizes
Impression
"Floating" effect
"Floating" effect
High-quality stainless steel fixture
(AISI304)
Suitable for
Alu-Dibond
Other
Assembly instructions incl.
Assembly instructions incl.
Drilling & assembly instructions excl.
Price
£12.95
£10.95
£18.95
---
---
This might also interest you