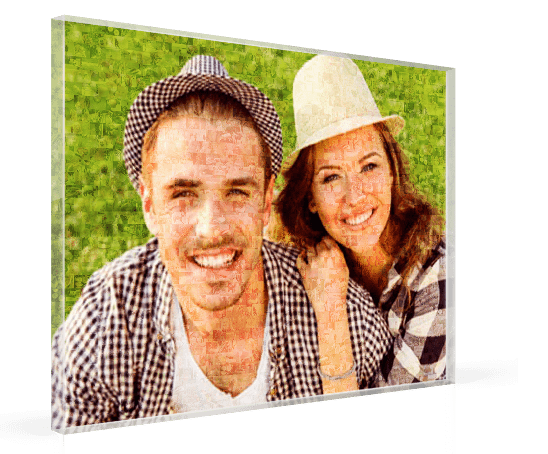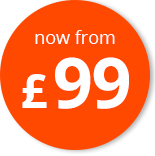 Upload up to 1,000 photos
Express Delivery
Free Preview
Create mosaic
Ready for dispatch:
Monday 22 October

Photo mosaic in 3 steps
1. Upload photos

2. Choose a mosaic

3. Order photo mosaic

---
Further information
Mosaic info
Prices
Delivery times
Hanging kits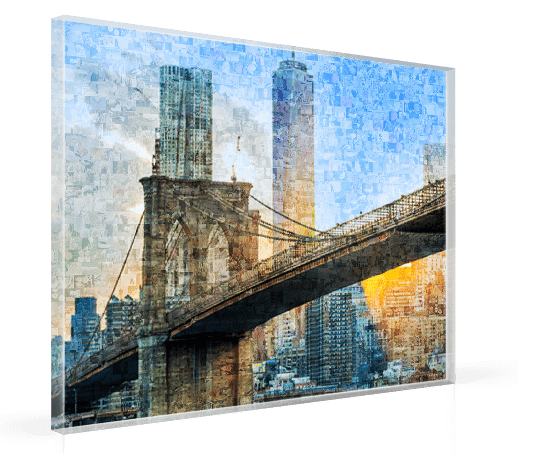 Photo mosaic information
Transfer up to a maximum of 1,000 photos
Individual photos of 0.8 in (2 cm) print size
High-gloss acrylic glass with diamond-cut edges
Choice of hanging kits
---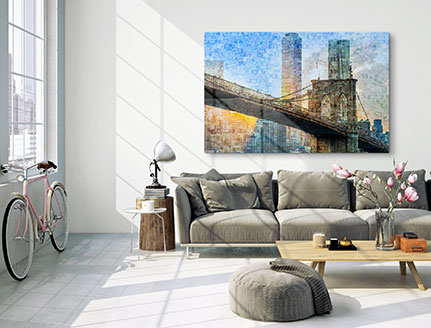 Detailed information
Free preview: always two mosaics to choose from
Up to 6,400 individual photos: print size always 0.8 in (2 cm)
Min. 30 photos needed min. – upload max. 1,000 photos
High-gloss, polished ⅛ in (3 mm) or ⅓ in (8 mm) thick acrylic glass
Printed with Océ – Canon™ print technology directly under acrylic glass (including white print)
Premium ⅓ in (8 mm) option with diamond-cut edges
Larger format photo on acrylic glass up to 80 in (2 metres)
9 mosaic sizes to choose from. Two choices of glass thickness: ⅛ in (3 mm) / ⅓ in (8 mm)
Delivery discount on multiple purchases (same size)
All prices incl. VAT.
Here's how quickly your order will be delivered:
TODAYOrder
now

Next Day*deliveryguaranteed

EXPRESSdeliveryexpected

STANDARDdeliveryexpected

Sat
Sun
Mon
Tue
Wed
Thurs
Fri
Sat
Sun
Mon
20
Oct.
21
Oct.
22
Oct.
23
Oct.
24
Oct.
25
Oct.
26
Oct.
27
Oct.
28
Oct.
29
Oct.
* Next Day delivery only available if ordered before midday
Wir liefern mit:

---
Delivered to
| | Size | Next Day Upgrade | Express Upgrade | Delivery |
| --- | --- | --- | --- | --- |
All prices incl. VAT.
Delivery discount on multiple purchases (same size)
Alle Delivery Prices and Times
Ghost
Couple
Steel 20
Image
Components
4-part set incl. screws
4-part set comprising
2 mounts & 2 spacers
4-part set incl. screws
0.8 in diameter
(20 mm diameter)
Weight capacity
Holds up to 0.6 kg
approx. 24 x 16 in
(approx. 60 x 40 cm)
Holds up to 0.6 kg
approx. 48 x 36 in
(approx. 120 x 90 cm)
Suitable for all photo sizes
Impression
"Floating" effect
"Floating" effect
High-quality stainless steel fixture
(AISI304)
Suitable for
Alu-Dibond
Other
Assembly instructions incl.
Assembly instructions incl.
Drilling & assembly instructions excl.
Price
£12.95
£10.95
£18.95
---
A photo mosaic on acrylic glass
A photo mosaic is an image that is composed of many individual images. The interesting thing about a mosaic on glass is its ability to combine up to 1,000 photos in one image. And the best part: these days, you can easily make your own photo mosaic acrylic print on the internet.
Create your individual mosaic on glass
If you want to have your own personalised mosaic printed on acrylic glass, you can arrange it very easily on our site. You'll create your mosaic acrylic print in just a few simple steps. This is how it works:
Preparation is the key. Think about what photos you would like to use for your mosaic. You also have to decide on which image will be the main subject in the foreground. For the background, you should select between 30 and 1000 photos. We recommend using as many pictures as possible, in order to make your photo mosaic more varied.
After selecting your photos, transfer them to our application. Since the individual images will be quite small on the finished product (2cm in width), the files don't need to be more than 100 KB each. The smaller the file size, the less time it will take to upload them all so it's a good idea to minimise the photos in advance using an editing program.
Once you have all of your images uploaded into the application, you will decide on the size of your acrylic glass photo (the dimension ration will be determined by that of the main picture you selected). Of course more photos can be presented on a larger glass format than on a smaller one, since the size of the individual images is always the same, i.e. 2cm. Here's how many individual photos will be in a photo mosaic:


| Acrylic print in cm | No. of photos |
| --- | --- |
| 60 x 40 cm | 810 photos |
| 80 x 60 cm | 1.600 photos |
| 120 x 90 cm | 3.600 photos |
| 160 x 120 cm | 6.400 photos |

All that's left is for you to enter your contact details so that your mosaic photo can be sent to you. We need about 1 day, to create your personal mosaic on glass, and to notify you by email.
With the mail, you will receive a link to the preview of your mosaic. We will usually create two different preview images for you. You decide which you like best, and can then directly order it printed on to acrylic glass.
How is a photo mosaic on acrylic glass produced?
An acrylic glass mosaic is created by connecting two image levels. We create one image layer from many little photos. We arrange these little images so that they are repeated as little as possible. The main picture makes up the second image level. This is displayed semi-transparently as a main image on top of the first level. The visibility of the main picture varies according to the transparency.
Mosaic photo prints for companies
A departmental or company photo mosaic can be produced using portraits of the members of staff. In this way, the sense of belonging to the company and the identification with the employees can be heightened. But mosaics can also be used for the multifaceted presentation of the company externally. For companies, the acrylic glass mosaic is therefore also perfect for communicative purposes.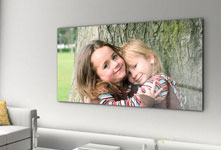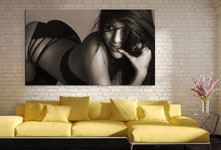 A mosaic on acrylic glass – always the perfect gift
A glass photo in mosaic style is the ideal present for any occasion – whether as a gift for the celebration or as a "photo reportage" " afterwards. The possibility of reproducing up to 1000 photos and having them work as one image makes this option so attractive. Here are a few lovely ideas for giving a photo mosaic as a gift:
Post-holiday: Most people come home from a holiday with lots of impressive photos, which are ideally suited to printing as a photo mosaic on glass. This way, all of your photo memories are captured without having to print out each one individually.
For a retirement or farewell: Whenever you have to say goodbye to a member of staff, fellow student, colleague or friend, you can preserve many memories of your time together. The perfect gift idea for a farewell is to surprise the recipient with a mosaic print. Photos of times spent together will be presented wonderfully.
For the dream wedding: Many dream of it being the most wonderful day of their lives. Aside from the professional photographer, many guests will also have their cameras at the ready to capture the occasion and the happy couple. Why not present the collected photos from the day as a gift? A photo mosaic with the bridal pair as the main motif is sure to be a gift that will bring much pleasure.
For a birthday: When yet another year has gone by or for a special, round birthday, too, a mosaic containing many photos of times gone by makes a fantastic present. All those experiences and moments of the past year are captured and beautifully presented.